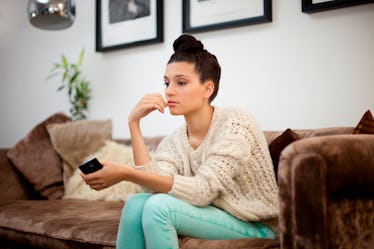 Beware — These 4 Personality Types Will Probably Flake On Your Date
Image Source/Image Source/Getty Images
You've been there before. That date you've been looking forward to all week is fast approaching, and just as you're just putting the finishing touches on your knockout *lewk* you get a text that causes all your giddy excitement to come crashing down. "Sorry, can't make it." No matter what their excuse or explanation is, it's a total buzzkill — but as it turns out, some people are just less reliable in this regard by nature. The Myers-Briggs personality types who flake out most on dates aren't just planning-challenged, however — there are lots of possible reasons for their behavior.
For example, someone with an Introverted preference is more likely to ditch plans because they simply don't have the energy to be social, which can leave them feeling drained — whereas someone with an Extroverted preference is more likely to bail because a more exciting or energetically fulfilling opportunity for socializing came along. While both Introverts and Extroverts can be flaky for their own reasons, there is one preference that plays a large role here: Perceiving/Judging. Since Perceivers are less planning-inclined than Judgers and prefer to "wing it" in life, they tend to be slightly less reliable when it comes to showing up for dates.
Wherever you happen to fall on the spectrum, it's helpful to know which types are prone to backing out of plans at the last sec. That way, you can not only determine just how compatible you are but also prepare yourself for any possible disappointments. If flakiness is a dealbreaker for you, then here's a word to the wise: Be cautious about dating the following Myers-Briggs types.