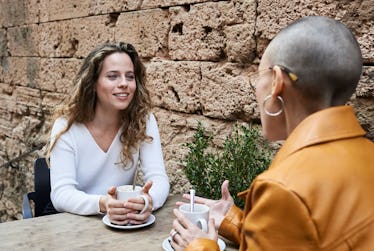 These 6 Little Things Can Help Introverts Come Out Of Their Shell In The New Year
There's this common misconception floating around about introverts, and how they're all a bunch of lone wolves who loathe all things social. While it's true that introverts typically aren't the joiners of the group (which, BTW, is totally fine), they're still human, and introverted humans crave interaction just as much as extroverted humans do — just, maybe not in the same way. So if, for the majority of your life, you've been sitting on the sidelines solo, and you want to experience life a little differently in the upcoming year, there are little ways introverts can be outgoing, too. It just takes a little practice, and maybe a little more energy than you might be used to expending. So grab a cup of coffee, have an emergency escape route planned, and let's get social(ish).
Personally, I've definitely gone through phases in my life where I've considered myself more extroverted than introverted, and vice versa, but I've recently noticed that, the older I get, the more introverted I am. And, speaking from experience, it's not that I don't ever have the urge to go out to dinner with a group, or get dressed up and go dancing with a friend. It's just that, when it comes down to it, I know which types of social situations I'll feel most comfortable in.
Now that I think about it, that really is the trick to becoming a more outgoing introvert: getting comfortable with, and being able to identify, that gut feeling — the one that says, if I attend this event, I'll a) go with the intention of staying for more than an hour out of genuine enjoyment, or b) end up hanging around in sheer agony just as a common courtesy toward the hostess. Trust me, there's a laundry list of invites I'll kindly RSVP a hard "no" to, because I know deep down I'd be putting myself in an awkward situation. You just have to keep in mind that being outgoing doesn't mean forcing yourself to seize every opportunity to be social. It's about feeling confident in social situations and surrounding yourself with people who bring you joy.
According to Jor-El Caraballo, a mental health expert and co-founder of Viva Wellness, introversion doesn't refer to how someone feels about other people; rather, it's a measure of energy. "It's not that introverts aren't outgoing or don't like people — it's more that their focus in relating to others is just different," Caraballo tells Elite Daily in an email.
Many introverts "need time away from people to recharge," he adds. In other words, if you're an introvert who wants to become more outgoing, the best thing you can do is establish balance in your social interactions. To find your own balance, here are some expert tips on how to become a more outgoing introvert in the new year.