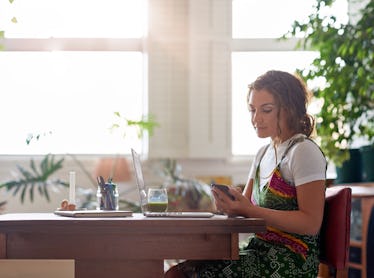 Here Are The Best Ways For An Introvert To Recharge After A Long Day Of Socializing
By the time you reach adulthood, there's a good chance you know whether you're more of an introvert or an extrovert. If you're an extrovert, then people are probably amazed by how easy it is for you to network for 12 straight hours without missing a beat. If you're an introvert, then things like networking are probably better described as the bane of your existence — but they're still a necessary part of life, regardless of your personality. People who are more reserved can't avoid socializing at all costs all the time, but there are ways for introverts to recharge on those particularly draining days, when it feels like all of your energy reserves have been totally and utterly depleted.
Of course, introversion doesn't imply a life of hermit status, nor is it a hard-and-fast binary scale that dictates how you "should" characterize yourself. In fact, most people exist in the middle of this spectrum, anyway. In truth, the best way to understand yourself in this context it is to think about where you get your energy from. If you feel totally energized when you're spending time in a group, then you probably lean more toward extroversion. On the flip side, if you feel like you need to find some alone time after a long weekend of brunches and bar crawls, then you probably lean toward introversion.
Keep in mind, there's no right or wrong here; it's all a matter of understanding who you really are, so you know how to take care of yourself, mind, body, and soul. For introverts everywhere, here are six things you can do tonight to recharge after a long day of socializing.