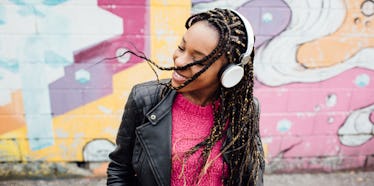 How Music Affects Your Workout, Because There Really Is A Science To Picking A Playlist
Have you ever been aggressively pumped to get in your workout solely because you'd put together a kick-ass playlist that you knew was going to make the entire sweat sesh beyond incredible? Honestly, I can't remember the last time I hit up the gym without my headphones in hand. The thought of exercising without music low-key makes me want to curl up into a ball and die. And the cool thing is, music affects your workout in a number of highly beneficial ways. So, no, it's not all in your head when you feel like you're on cloud nine the minute your current favorite jam comes on.
I mean, for instance, just look at how many people are absolutely obsessed with SoulCycle. You're legit drenched in your own perspiration and wheezing because of how freaking high the instructor is making you crank the resistance, but you're still somehow having a blast because of — yup, you guessed it — the killer playlist that's bumping throughout the pitch black room.
According to a 2010 study, scientists realized that cyclists naturally worked harder while listening to upbeat music. So I guess that's why I'm out there #grinding at SoulCycle rather than passing out or throwing up. Cool.
There are actually a bunch of other reasons why your beloved gym time playlist positively affects your workout, though. Here are five ways that music improves even the most difficult of sweat sessions. And maybe you'll feel inspired to go workout afterward.