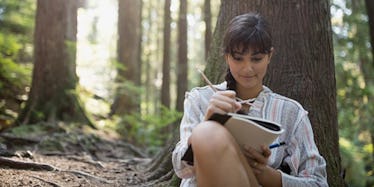 5 Unique Alternatives To A Vision Board If You Don't Have Time For Arts And Crafts
Getty Images/Hero Images
Vision boards are awesome and all, but take it from me, you don't need the traditional version of the craft to be inspired. In fact, you can make it so that your entire life is one, tangible, living, breathing influence of creativity and inspiration. How to make a vision board without the poster board, litter of magazine scraps and, admittedly, the sticky, messy fun, simply depends on how you decide to intertwine this creativity into your life's stitching.
If you're a chick on the go with big dreams and a packed agenda, you may need inspiration that can be seamlessly weaved into your schedule and doesn't require you to sit down at a table for endless hours of arts and crafts.
Enter audio vision boards, the spicy affirmations for "when you feel fed up with the journey," as described by creator of She's Beauty and The Beast, edu-tainer, advocate of emotional empowerment, and radio personality of Sway in The Morning, Tracy G.
According to Tracy G, these audio vision boards are like "swiffers for a messy mind." She created them because, quite frankly, cutting out magazine scraps is cute and all, but not always convenient.
She tells Elite Daily,
As much as I love and utilize traditional vision boards, that big-ass piece of poster board can't fit in my back pocket. The moment we step out of our house, there's a cornucopia of distractions vying for our attention, distancing us from our big picture. To be able to escape and reset in the privacy of our headphones is not only uber accessible, but useful.
With messages like, "I am thankful for this working brain and these moving feet because both will take my ass where I need to go," these audio vision boards will help inspire you to live your best life in a matter of two to four minutes, tops.
In the meantime, there are tons of other ways you can situate your life so that you have inspiration at every turn. Here are five ways to get under the creative influence that have nothing to do with the cliché idea of creating a vision board, but that still achieve the goal of inspiring you to do your thing each and every day.
1. Keep Post-It Notes All Around You, Being Mary Jane Style
Thats right -- do this sh*t Being Mary Jane style.
These post-it notes could be simple reminders that you know yourself and know what you need better than anyone else. If you need a special reminder while washing your face in the morning, post something sweet on your mirror. It's like self-pampering at its kindest, right?
2. Sign Up For Inspirational Text Messages
Personally, I use a special service called ShineText.com, which, after you sign up, allows you to receive inspirational text messages on your phone (for free, of course, don't worry).
Mine are scheduled for Monday through Friday, at about 8:15 a.m, which is great because I literally wake up to something motivational, and somehow, the message is always right on target with my current life circumstances.
The texts range from anything like how to handle anxiety, to staying productive without feeling super overwhelmed. It's like an affirmation from a friend, exactly when you need it most.
3. Set Your Alarm Clock To An Inspirational Song
There has got to be that one song that gets you going every time.
Whatever that song is, set that bad boy as your alarm in the morning. It should work as a natural boost to hear your favorite, most motivating lyrics the moment your sleep cycle is ready to rise and shine.
4. Set Your Alarm To Tracy G's Morning Wake-Up Calls
Sometimes, you need a little extra something to get you going in the morning, to remind you why you do your damn thing every day.
Tracy G's morning wake-up calls make for the perfect, enthusiastic alarm. It's like a BFF who's ready to tell you you'll slay your day no matter what, that you've got big dreams to fulfill.
Seriously, nothing will get your ass out of bed faster.
5. Keep A Motivational Book Of Quotes In Your Purse
This one is one of my favorites, because sometimes, you can't really call it when you're going to need a reminder that you're a dope ass chick with dreams to accomplish.
Sometimes life hits you unexpectedly, and when it does, you need to be ready to hit yourself with some enthusiasm -- and that's exactly what this book of quotes is perfect for.
If you ever feel like your motivation is waning, whip it out like your creative weapon of choice. It'll work to silence the Debbie Downers that you bump into throughout your day, or even silence your own inner pessimist.