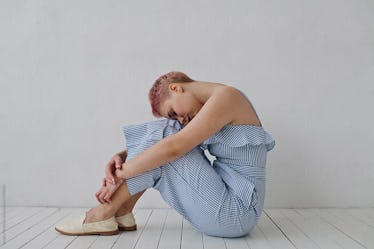 3 Ways To Signal To Your Partner That You're Emotionally Drained & Need Their Support
You know how it feels to be physically exhausted after running a 10K, or mentally exhausted after pulling an all-nighter to study for that art history exam? As for emotional exhaustion — it can be a little harder to put your finger on, but it's certainly no less taxing. The first step to making a change is to identify that you do indeed feel this way, and then letting your SO in on it. Fortunately, there are multiple ways to signal to your partner that you're emotionally drained.
According to Dr. Joshua Klapow, clinical psychologist and host of the Kurre and Klapow radio show, it's crucial that bae is aware of what you're dealing with, because it can take a toll on your relationship.
"Being emotionally drained can fundamentally change the way you process and communicate information," Dr. Klapow tells Elite Daily. "This has a very real impact on your relationship. When we are emotionally drained, we have less stamina for conversation, are less able to tolerate conflict in a discussion, are more sensitive and in some cases numb to intense conversation. Our ability to empathize is diminished as well. Simply put, we have less energy, less ability to process information and less emotional capacity for the relationship."
The good news is, there is a way to bounce back from being emotionally drained. But first, you'll need to let your SO in on your struggle. Here are a few ways to show your partner that you're feeling emotionally tapped out.