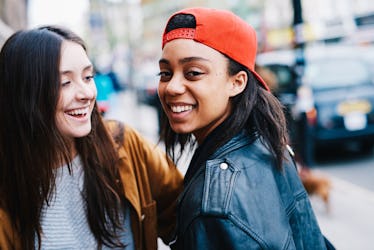 3 Zodiac Signs That Have An Easy Time Feeling Sparks Flying On First Dates
A first date is like the pilot episode of a relationship. It sets the scene, introduces the characters, and gives you a sense of whether this combination of scenery, personality, and circumstances are going to work. And like pilots, first dates can lead to several different endings. With some people, it's takes a couple of dates for them to figure out if they like someone or if that potential bae is cancelled. With others, they'll know right away if they've struck garbage or gold. Looking to the stars, there are certain zodiac signs that feel sparks on a first date more easily than other signs. Yes, almost everyone gets first-date jitters. But there's a different kind of spark you feel when you go out with someone for the first time and realize you can carve out a future with them.
Whether you're doing your best Normani impression during karaoke or relaxing at a dog park, a first date can help you gauge whether your date is made of partner material. And based on your sign or your date's sign, there is a chance that one of you could start to catch feelings on the first date. Here are the signs that tend to feel sparks easily and the first date ideas that are just what they need to let their star sign shine.