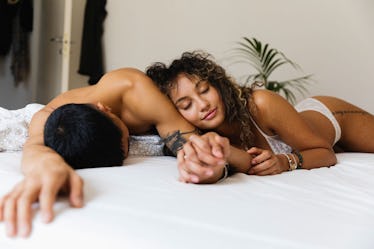 If One-Night Stands Aren't Your Style, You're Probably One Of These 3 Zodiac Signs
Some signs in the zodiac are especially inclined toward hittin' it and quittin' it — here's looking at you, Gemini, Scorpio, and Aries. These go-getter, devil-may-care signs have mastered the efficient Tinder swipe, and will have always sufficient condoms and dental dams in stock. They're perfectly OK with rolling out of bed post-orgasm, gathering their goods, and breezing out the door to catch the Uber they've just called. On the other end of the astrological spectrum, there are a handful of zodiac signs that don't like one-night stands one bit. It's not to say that the three signs below will never have them. In fact, the dreamy, restless, and fun-loving nature of these signs means a few random hookups will probably happen once or twice.
But over time, these signs' knack for all things romantic, nurturing, and intimate will kick in. No matter whether you're what they need in bed or not, they'll ask themselves: Why waste time cycling through different pickups from the bar when you could just have a steady go-to for all sexual, intimate, and emotional needs? Here are three zodiac signs who will always pick couples' costumes and hand-holding on brunch dates over sneaking out of a one-night stand's crib.