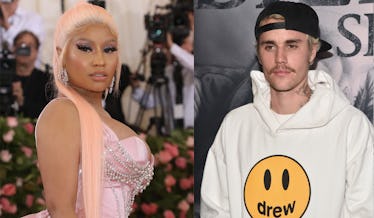 18 Celebrities Who Practice Abstinence & Totally Endorse It
Taylor Hill/FilmMagic/Getty Images, Alberto E. Rodriguez/Getty Images Entertainment/Getty Images
Sex is a highly personal subject, but being famous often means that elements of your private life aren't so, well, private. Whether it comes out via a probing interviewer's questions, or on national television via a reality show, there are many celebrities who practice abstinence. Some have not only been super vocal about their decision to hold off on sex, but even used their platform to encourage others to follow suit.
There are plenty of reasons a person might decide to practice abstinence. Some made a promise to themselves to hold off on sex until they found "The One." Others embraced abstinence after years of being sexually active because they wanted to focus on other types of intimacy. Abstinence can be a temporary decision to take a step back from sex or a long-term pledge that a person only breaks when they tie the knot. Regardless of the motivation behind this choice, it's one that some stars are super proud of.
While a number of the celebs on this list have all but shouted their abstinence pledges from the rooftops, others have kept their decision a tad more on the DL. Here are some famous faces who have put their sex lives on pause for a period of time.