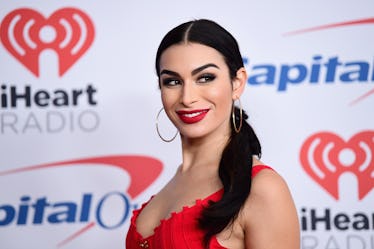 Ashley I.'s Quotes About Her Virginity On 'The Bachelor' Are Actually Super Relatable
Emma McIntyre/Getty Images Entertainment/Getty Images
It's no secret that Bachelor Nation's Ashley Iaconetti is a virgin. During Chris Soules' season of The Bachelor, Ashely I. told the world that she's waiting to have sex until she finds the right person, and the tabloids have been obsessed with her sex life ever since. But that's all about to change, as the Bachelor Winter Games star told Us Weekly that she's done talking about her virginity. It was nice while it lasted, because Ashley I.'s quotes about her virginity are actually super relatable.
If there's anything we've learned about Ashley I. after her season on The Bachelor, two stints on Bachelor in Paradise, and her current role on The Bachelor Winter Games, it's that she loves talking about being a virgin (well, she used to love it). On her first season of The Bachelor, Ashely I. was never embarrassed to talk about her lack of experience — in fact, it made her stand out from the other women, even if it gave her the nickname "the crying virgin" — and she always forged head-on into what is certainly a difficult discussion. Mad respect, girl.
Despite the fact that Ashely I.'s sex life did kind of end up defining her status on the show, she made it clear during Soules' season that her virginity is not the most important thing about her as a person. "Obviously I hope Chris is that guy, but I need my opportunity, my time, to rise to the top ... He already knows my family is important. He knows a little about me. But let's just make sure he knows that I'm going to be a good time for the rest of his life," she told the camera. She didn't wink, but she may as well have. Yes, she may have been a virgin at the time, but she didn't mince words when she explained that as soon as she found the right guy, she was ready to jump on her chance (pun intended) to change her virginal status. In the face of expectations telling her that virgins should be this or that way, Ashely I. said "Nah, I'm good." Who wouldn't want that kind of confidence?
The Bachelor may have introduced us to Ashley I., but it was her two seasons on Bachelor in Paradise that really made her famous. Ashley I. fell for her fair share of dudes in Paradise and in each relationship (if you can call those "relationships") she was upfront about her virginity — and wanting to lose it. Daniel was by far the most excited about the prospect of dating a virgin, and he even offered up his "Canadian bacon" to his date. But Daniel's immaturity (and hilarity) didn't stop Ashley I. from trying to have a heartfelt conversation about her virginity.
"I'm the 'virgin that cries a lot.' And you know what? It's kind of rude. Why does that make me weak?" It's not "kind of" rude, Ashley I. It is rude. Bachelor in Paradise isn't exactly the ideal venue for self-reflection, but Ashley I. hit it out of the park with this one. Once again, the relatable reality star made the conversation surrounding sexism (on a show in The Bachelor franchise, no less) more nuanced and complex. It's not weak to show emotion or to talk about intensely personal topics. It's bad ass, and if you think otherwise, I'm sure plenty of women on Twitter will be happy to set you straight.
And now that she's decided she's done talking about her virginity, Ashley I. has made her strongest point yet. "I know what everybody's million dollar question is — have we or have we not? — but I will never, ever, say yes or no to that question," she told Us Weekly. "Just because I've been public about it in the past, doesn't mean that I can't make something private once somebody else is associated in that topic of my life." OMG. This is everything. It's Ashley I.'s body, and she has every right to talk about her sex life or not talk about it. She's right: just because she used to talk about sitting on Wells' [bleep] doesn't mean that she is obligated to talk about it now.
Apparently, Ashley I. is finally set to lose her virginity to Canadian Kevin Wendt during the Bachelor Winter Games finale. There will definitely be drama, but can we all just agree to play nice after the fact? Because at the end of the day, Ashley I. doesn't owe anything to anyone.