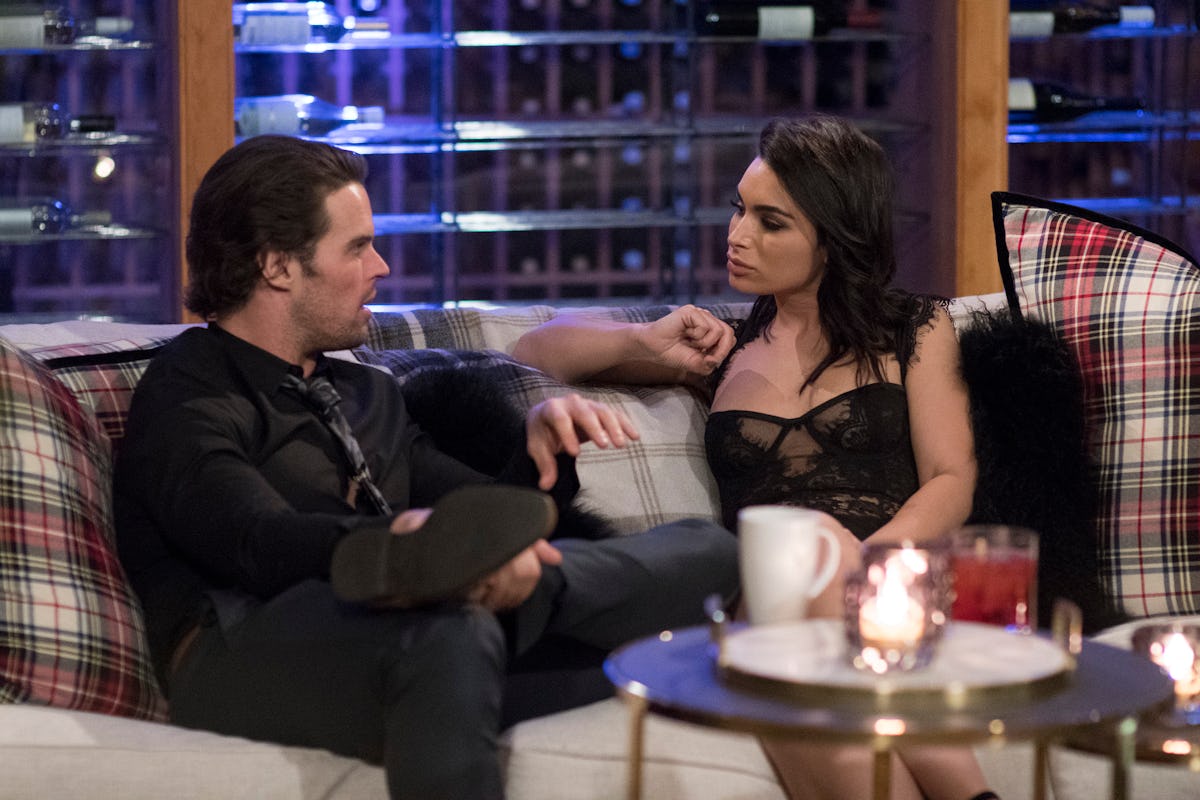 Ashley I. Seems To Be In Love On 'Bachelor Winter Games,' Here's What She's Up To Now
When it comes to The Bachelor Winter Games, we still don't know if the show is the perfect formula for forming post-show relationships. After watching Bachelor franchise constant Ashley I. and Canadian Kevin "get together" after Kevin briefly romanced Bibiana earlier this week, we have to ask: Are Ashley I. and Kevin dating after Bachelor Winter Games? Nothing can be confirmed until after the show ends, but here's what we know so far.
Ashley Iaconetti is known for being the equivalent of Bachelor Nation's friend who's always single but somehow is perpetually involved in boy-related drama. After appearing on two seasons of Bachelor in Paradise with Bachelorette alum Jared Haibon as her object of affection, Ashley set her sight on Kevin early on during Winter Games, despite his initial interest in Bibiana.
Normally things don't go very well for Ashley when another women is interested in her crush, but after his bond with Bibi faded, Kevin started pursuing Ashley instead. The former Bachelorette Canada winner flirted with her shamelessly in Episode 2, hinting that the fourth time is the charm for Ashley to find love. Finally!
Kevin split with his Bachelorette fiancé Jasmine Lorimer five months after their season finale aired, and if history were to repeat itself, it's still only about two months since the Winter Games filmed in December. Both he and Ashley poked fun at their now non-existent love triangle with Bibiana on social media this week. They each posted a photo of Kevin being tugged in different directions by Ashley and Bibiana. Both versions of the photo were posted on Valentine's Day, suggesting that Kevin and Ashley spent the day together.
However, several Winter Games cast members posted photos with each other on Feb. 14. Seeing as we're getting a "World Tells All" reunion special alongside the finale next week, it's probably likely that the cast was all in L.A. filming the reunion.
If that's the case, I don't know why the props department has used the Valentine's Day decorations you see in a second-grade classroom, but look at Ashley snuggling up to Kevin! Someone pulling that move on Valentine's Day is either a bold girl hoping for a second chance or a loving girlfriend in the throes of new love.
We received confirmation of Winter Games couple Dean and Lesley through their appearance together in a public place, and it looks like a similar blunder has spilled the truth about Kevin and Ashley's current status. ET Canada reported that the two were spotted on a Valentine's Day date together in Ashley's home city of Los Angeles. Paparazzi shots of the couple showed them at a cozy-looking dinner together and later getting ice cream. Kevin was even photographed rubbing Ashley's back at the ice cream shop.
Earlier in the day, he was also snapped carrying Valentine's Day gifts into Ashley's home. Um, this relationship sounds pretty solid to me! Also, have the Bachelor lawyers just officially given up on ensuring that couples keep their relationships secret until finale episodes?
Keeping busy with her two podcasts and various other jobs in the entertainment outlet, Ashley is usually quite vocal about her romantic life. It wouldn't be the Ashley I. we all know and are overly familiar with if she didn't spill about her connection with Kevin. Luckily, we only have a week left of Winter Games, so I expect a detailed status report on the reunion special and then an even more updated explanation on a podcast. After that, we'll probably still get way more info than we ever needed.
The Bachelor Winter Games returns on Tuesday, Feb. 20 at 8 p.m. ET on ABC. Winter Games concludes with a final episode on Thursday, Feb. 22.