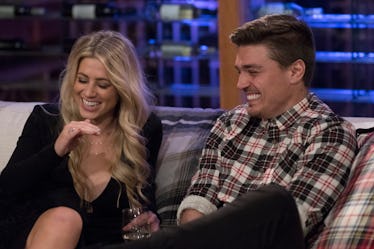 3 Clues That May Prove Dean & Lesley Are Still Dating After 'Bachelor Winter Games'
ABC
The Vermont snow must be quickly melting because things are heating UP on Bachelor Winter Games. The coupling began on the premiere episode faster than you can say "nice to meet you," and it seemed like every shot from inside the house showed people kissing in corners and on couches. Seriously, it looked like a high school make-out party up in there. One pair that hit it off immediately was Dean and Lesley, and we must say — they're absolutely adorable together. But are Dean and Lesley still dating after Bachelor Winter Games? Bachelor Nation is wondering if they kept their relationship going after the cameras stopped rolling.
Update: At the World Tells All special after the finale, Dean and Lesley confirmed that they are still together, and Dean gave Lesley a key to his house.
Earlier: "Since you saw me on Bachelor in Paradise I have done a lot of self-reflection," Dean stated at the start of Tuesday's premiere, even admitting he had acted like "kind of a jerk" last summer. "I know at the core I'm a good guy and I have a good heart and I just made some questionable decisions. Going into Bachelor Winter Games I'm going to be much more decisive. That kind of what my problem was in Paradise, trying to have the best of both worlds."
Oh, Dean. We sure hope you don't pull the same flip-flopping moves on Lesley that you did with Kristina Schulman and Danielle Lombard back in Mexico, but it sounds like you're a bit older and wiser now in the relationship arena. Fortunately, we do have a few reasons to believe his and Lesley's romance might have gone in a more positive direction.
They Seemed to Make a Genuine Connection
The moments between Dean and Lesley that made it on screen in the first two hours of Winter Games were sweet and surprisingly candid. Honestly, sometimes we feel like the majority of Bachelor convos are so on the surface that "what's your favorite flavor of ice cream?" is about the deepest we go in the "emotional" questions department. You can watch an entire season and never really get to know anyone. Despite the nerves she admitted to having, Lesley opened up to Dean about getting breast reconstruction following the preventative double mastectomy she had last year after discovering she carried the BRCA2 gene mutation. She even joked he could judge how they turned out.
They've Been Spotted Together Since Filming
According to a report by Us Weekly last month, Lesley and Dean were seen at a party at the Sundance Film Festival in Utah. "They were holding hands walking through the party and looked very much like a couple," a source told the mag. These two haven't made anything Instagram official, though they both posted separate pics from their time at Sundance.
Dean Says He's "Incredibly Happy" These Days
When asked if his romance might go the distance, Dean revealed to Us Weekly on Jan. 30, "I hope so. Fingers crossed." He also reportedly said that he's "incredibly happy" at this point in his life.
Lesley recently spoke to Entertainment Tonight, but she didn't quite confirm her current relationship status with Deanie Baby:
I had the time of my life. I was there until the very end and you'll see how it ends. There are four couples at the very end of it. No proposals. [There is an international relationship.] They had a lot more heavy conversations to get through at the end because how do you make that work? I came off [of the show] very, very happy.
"The truth is, I am falling in love with Lesley," Dean is seen confessing on the extended trailer for the season. "I hope she feels the same way." Cut to the two of them smooching in a snowy winter wonderland. "Dean is such a question mark," Lesley says. "He's got some growing up to do and there are other guys I want to pursue."
Hmm. Will Dean's "question mark" status evolve into an exclamation mark with a heart emoji bonus? We can't wait to watch his story with Lesley unfold over the next three episodes.