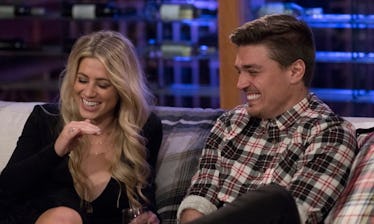 Dean Proposed To Lesley At The 'Bachelor Winter Games' Tell-All… Well, Kind Of
ABC
The Bachelor Winter Games are officially over, but the relationships that formed on the show are just getting started. The special World Tells All episode aired after the finale on Feb. 22, and some big revelations were made — including Dean getting down on one knee. Dean's fake proposal on "World Tells All" had people so, so excited... and then, so, so disappointed.
The promos for World Tells All teased a proposal ridiculously hard. Of course, the messaging mixed with the shot of Dean getting on one knee had people extremely confused. Obviously, it was a fake-out, and Dean did not propose marriage to Lesley. He did propose another big step in their relationship — inside Dean's tiny ring box was a key to his house. Of course, Lesley gleefully accepted and the two looked truly happy together.
Lesley had fans raising their eyebrows when she posted a picture of herself and Chris Harrison at World Tells All on Feb. 16. The cryptic caption hinted at some drama,
99% of my trust issues come from @chrisbharrison saying "this is will be the most dramatic season"... every season. I 100% back him up this time.
Fans had some wise words for Lesley, but mostly Dean. User @gayle_in_hawaii cautioned,
@deanie_babies I have faith in you!! Be a good man that I know you are capable of doing! Don't let this one @lesleyannemurphy get away. Well I hope she didn't!!!
Instagrammer @buddysue84 (and tons of other fans) also sent kind and encouraging words to the couple,
You were one of my favorites on Sean's season and I think you and Dean make such a cute couple!! Best of luck.
Dean and Lesley were drawn to each other right off the bat. Dean's nerves were a little shot after his notorious love triangle between Kristina Schulman and Danielle Lombard during Bachelor In Paradise, but he fully redeemed himself as a one-woman man during Winter Games.
Dean admitted to learning a tough lesson during BIP that helped him during Winter Games. He exclusively told Elite Daily in October,
I've been learning to be more honest with people, to not be afraid to say no. One of my favorite things about myself — and one of the biggest struggles I have — is that I can't say no to people. I'm very hesitant to. I think that it leads to good things, but it can lead to a lot of bad things.
Luckily, Lesley came into the show with fresh eyes and said she didn't know much about Dean coming into the situation. She said during a joint interview with Dean for Entertainment Tonight (which you can watch below),
I didn't watch Paradise and I didn't watch Rachel's season because I'm all over the world all the time. I didn't know much about Dean. I saw his cute little face and his big blue eyes and it kind of went from there.
Dean gushed right back about his new lady love,
I think we'll get really familiar with Lesley's story throughout Winter Games. I feel like she kind of talked a lot about it but ... she's a very courageous person and she's strong and I think that's first and foremost what really attracted me to her and of course she's beautiful. If you want to talk about someone who's kind to everyone, it's her. It's kind of annoying when we go places she literally makes friends with every person we meet.
The two are obviously still as strong as ever, and I have a feeling they're in it for the long haul. Best of luck to you guys.
Check out the entire Gen Why series and other videos on Facebook and the Bustle app across Apple TV, Roku, and Amazon Fire TV.