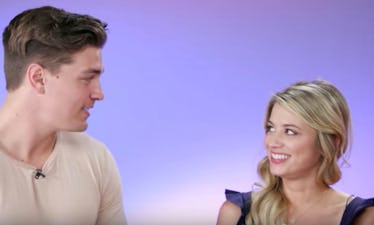 Dean & Lesley From 'Bachelor Winter Games' Show Major PDA In This Cute New Video
Entertainment Tonight/YouTube
Ladies and gents, there's a new super adorbs Bachelor franchise couple to obsess over. Dean Unglert and Lesley Murphy, both U.S. contestants on the inaugural season of Bachelor Winter Games, hit it off immediately on the show's season premiere. The franchise alums are all kinds of sweet together and now they're gushing about one another for the all to see. Seriously, this video of Dean & Lesley from Bachelor Winter Games will make you believe in finding love, on reality TV no less.
"I didn't watch Paradise and I didn't watch Rachel's season because I'm all over the world all the time. I didn't know much about Dean. I saw his cute little face and his big blue eyes and it kind of went from there," Lesley revealed, in a joint interview with Dean for Entertainment Tonight.
"I didn't know anything about her," Dean added. "I just know that she has big beautiful meatball eyes." Not sure what those are, but it sounds like a unique and delicious compliment to me!
But it's not just the physical stuff that has these too seemingly smitten. Lesley remarked that Dean "treats other people with kindness and respect," which can often be a rarity. "Where do I start?" Dean responded, when asked what he loves about Lesley. Now that's how to answer a question.
"I think we'll get really familiar with Lesley's story throughout Winter Games. I feel like she kind of talked a lot about it but ... she's a very courageous person and she's strong and I think that's first and foremost what really attracted me to her and of course she's beautiful," Dean went on. "If you want to talk about someone who's kind to everyone, it's her. It's kind of annoying when we go places she literally makes friends with every person we meet."
Are you smiling yet? If that rave review isn't an admission that these two are dating then we don't know what to say.
Lesley's story probably refers to her undergoing a double mastectomy last year after learning she was positive for a BRCA2 gene mutation. The Bachelor alum from Sean Lowe's season has been open about her decision to go through with the surgery, as well as reconstruct her breasts following the procedure. She even spoke to Dean about it on the premiere of Winter Games. "We bonded over the fact that both of our moms had breast cancer and his mom unfortunately passed away. He knew about my surgery and my recent double mastectomy. He had the sweetest things to say about it. He was like, 'I commend you so much for doing that," Lesley told People of their connection.
Lesley also remarked to ET that we shouldn't expect another "love triangle" for Dean a la last season of Bachelor in Paradise. The Bachelorette alum notoriously got embroiled in one when he flip-flopped between Kristina Schulman and Danielle Lombard, and his so-called disrespectful behavior didn't exactly win over Bachelor Nation.
But with a new spinoff comes new opportunity, a new climate, and a chance to make things right. "I know at the core I'm a good guy and I have a good heart and I just made some questionable decisions. Going into Bachelor Winter Games I'm going to be much more decisive. That's kind of what my problem was in Paradise, trying to have the best of both worlds," Dean admitted on the premiere. Well, Lesley seems to agree with his character description, because clearly she considers him a good guy, too. Things are looking up! Or at least it appears that way now.
We can't wait to see more of Dean and Lesley's romance unfold as the season progresses, even if we're still not exactly sure what "meatball eyes" means.