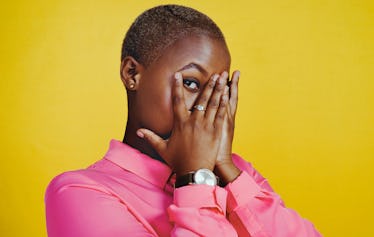 Get Ready To Cringe From Embarrassment At These Tweets About Awk Sex
Delmaine Donson/E+/Getty Images
It's easy to bring up the warm, fuzzy, racy feelings that come with good sex. But there's hardly enough talk about the uncomfortable, or even mortifying moments people can also experience in the bedroom. Gushing about the powerful orgasm you had last night? Tired. Bragging about how you've found someone just as kinky as you? Also tired. The people need a moment of silence for the lost condoms, ruined bedsheets, and farts that also come with sex. As it turns out, the following tweets about awkward sex moments finally give these bedroom blunders the acknowledgement they deserve.
We're all human. And for every position that feels good, for every spicy turn-on, and for every delicious morning sex session, there's an an anal faux-pas, a case of bad timing, or an awkward body contortion you may find yourself stuck in. These are all just things that come with inhabiting a human body — inconvenient nosebleeds, body hair up your nose, or that pesky gag reflex. You might as well hop on Twitter to whine and laugh about it.
Besides, using your awkward moment as way to gain clout is truly the millennial and Gen-Z way. Here are a few embarrassing sex stories and bedroom related musings that'll make you cackle as much as cringe.