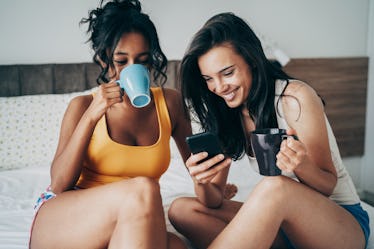 13 People Reveal The Most Underrated Songs To Have Sex To
filadendron/E+/Getty Images
Just like candles, fresh sheets, and soft lighting, a well-curated sex playlist can help set an impeccably sensual mood in the bedroom. Sexy songs can range from empowering bops (basically anything Ariana Grande) to down-and-dirty "baby-making music." (Usher literally has a song called "Climax.") Elite Daily asked 13 people about the underrated sex playlist songs that secretly get them and their partner riled up every time, and let's just say, the deep cuts on their love-making mixes are were very stirring.
Whether you're vibing to Top 40 hits or low-key bops, listening to music during sex can drum up psychological arousal, too. Neuropsychologist Dr. Rhonda Freeman previously told Elite Daily that your sex playlist can stimulate your brain's reward system, and the dopamine rush that follows can be powerful.
"Dopamine is a neurotransmitter linked with desire, wanting, craving, motivation, or anticipation of someone or something — in this instance, of our intimate partner," Freeman said. "Those systems not only allow the pleasurable experience of sex to be amplified with music, but they also allow music to deepen your connection with your partner."
Below, underrated songs (or albums!) to strengthen your connection with your partner, pump out some dopamine, and get frisky. Take notes.