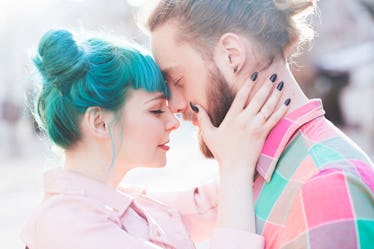 12 New Year's Resolutions To Try In 2019 If You're In A LTR & Want To Keep Going Strong
Believe it or not, even the most perfect power couples can benefit from setting some relationship goals of their own. If you're currently locked down and things with your boo are transitioning from low-key to serious AF, the start of a new year can be a great time to hit the refresh button with your significant other. There's no better time than now to think about New Year's resolutions if you're in a long-term relationship.
The beginning stages of a relationship bring butterflies and excitement about the future. You may have already declared your love for each other, met the parents, and possibly even moved in, but that doesn't mean all that giddiness and elation needs to die down.
Every couple is different. You and your SO probably have a number of things that make you untouchable, and several other things you could work on to better your relationship. Maybe you and your partner are getting a little bored with your routine, maybe you need to work on your communication, maybe you're spending too much time together, and maybe you just need to spice things up in the bedroom. Whatever the case, keep in mind that even the strongest couples can benefit from a little relationship TLC.
Are you ready to slay 2019 with bae? These 12 New Year's resolutions will keep the flame of your long-term relationship burning all through next year.