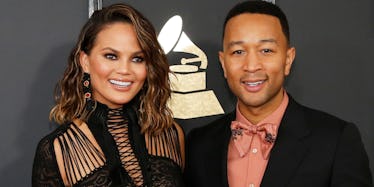 Chrissy Teigen Reveals How She Finds Time For 'Date Nights' With John Legend
REUTERS
One of the main reasons the world continues to obsess over model Chrissy Teigen is simply because she makes everything look so damn easy.
Whether she's posing nude on a (lucky) chair during "a typical press day" or taking care of her first child Luna and still finding time to make it to the Grammys, she makes it all look so effortless!
There has to be some kind of secret to her ability to make everyone in her life happy, including herself.
During a recent interview with Entertainment Tonight, the 31-year-old model spoke about all of the help she receives from her family so she and husband John Legend can have their alone time.
She revealed,
We're very lucky to be able to do that. Not a lot of people can do that: can go on date nights, can have a sitter, have someone take care of their baby. 'Me time' is important, but not everybody can do it.
Chrissy Teigen is known for keeping it real.
That's precisely why she refuses to hide the fact she's extremely "lucky" to have both paid support and family support when it comes to taking care of baby Luna.
Every time I look at [my daughter] Luna, I wonder, 'How on earth does anybody do this alone?' I have the utmost respect for mothers [and] single mothers.
Yeah, that single mother life has to be tough when you're not worth millions! Teigen continued on, saying that she feels it is "important to be very honest with people" about the support system she has.
I totally agree, especially when there are countless celebrities out there who choose to hide the fact they have help assisting them with their lives and instead, make it look like they're the only ones running the show.
Chrissy added,
I have my mother who lives with us, I have John, I have a nanny. I'm very outspoken about it, and when I see that I still have a difficult time, I just don't know how anyone else does it.
This isn't the first time she's been 100 percent honest with her fans.
Back in November, Teigen sat down with "Today" to reveal the many ways celebrities are able to shed excess body fat after having a baby.
We have nutritionists, we have dietitians, we have trainers, we have our own schedules, we have nannies. We have people who make it possible for us to get back into shape. But nobody should feel like that's normal or like that's realistic.
Once again, you can always count on Chrissy T. to keep shit real -- just ask President Trump.