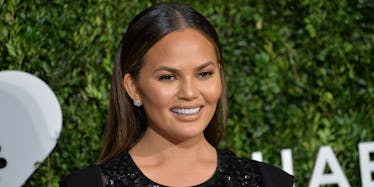 Chrissy Teigen Reveals What Celebs Really Do To Shed Baby Weight
REX/Shutterstock
Finally, someone is being honest about the real ways celebrities are able to shed baby weight to achieve the perfect post-baby body.
While dudes like me don't have to worry about packing on any extra pounds while our female partners are pregnant, slimming down into "the old you" can be a lot easier said than done for most mothers.
Still, celebrities like Blake Lively and Behati Prinsloo make the whole post-baby body thing look way too easy.
Thanks to Chrissy Teigen, we no longer have to sit around and try to figure out exactly how these fit moms are able to get back into shape in under a year after giving birth.
The 30-year-old supermodel sat down with "Today" for an interview following the birth of her first child with John Legend, baby Luna.
During the interview, Chrissy Teigen touches on everything, from how important your bond is with your partner to the truth about how your favorite celebs are able to achieve the perfect post-baby body while making it all look so damn easy. Chrissy revealed,
Anyone in the public eye, we have all the help we could ever need to be able to shed everything. So I think people get this jaded sensation that everybody's losing it so quickly, but we just happen to be the ones who are out there.
Chrissy went on to talk about the different kinds of help celebrities call on to get the job done.
We have nutritionists, we have dietitians, we have trainers, we have our own schedules, we have nannies. We have people who make it possible for us to get back into shape. But nobody should feel like that's normal, or like that's realistic.
In other words, most of these celebrities are celebrities because they're REALLY good at acting, modeling, singing and other skills.
As a result of their successes, they're able to afford an expensive lineup of help from dietitians, trainers, babysitters and more.
All of these components make it A LOT easier for them to achieve their desired weight and physical appearance very quickly.
That makes perfect sense to me... but that might be a little disheartening for people who don't have access to these superstar resources.
In the past, Chrissy spoke to People magazine about the struggles she still faces with her post-baby body, saying,
Every shoot I have right now, I request like all one-pieces please or anything high-waisted. I'm still definitely not comfortable. I think I'm fine in clothes. But am I comfortable naked or in a bikini? Not exactly yet.
That's proof that even with unlimited fitness-related resources at your fingertips, your success is all dependent on your mindset and how you plan to overcome any obstacles that may stand in your way.
While Chrissy makes things look easy (because she's effortlessly flawless at all times), the 30-year-old mom told "Today" that she wasn't always this confident in herself, adding,
I've always had a big, rectangular smile. I always just had the biggest mouth, and when I laugh, I laugh with all of it. I can't control it, it's just my mouth. And that, paired with these chipmunk cheeks, can be very piercing to people. So now I appreciate the cheekbone structure my mother has given me.
Teigen went on to gush about her mom, saying,
That's why I love people seeing my mom. That's why I love that she's on Snapchat and Instagram, so people know that I have not indeed filled my face with cheek filler and stuff. For me, when I was little, I thought it looked so goofy and grating and now I feel like I still look like a kid, so I like that.
Well, Chrissy, whether you're gracing the cover of Sports Illustrated in nothing but a bikini, simply snapping a selfie for Instagram with baby Luna or smiling into the camera like a maniac, the world loves you for being you and keeping it real at all times!
Citations: Chrissy Teigen gets real about celebs losing baby weight: 'We have all the help' (Today)