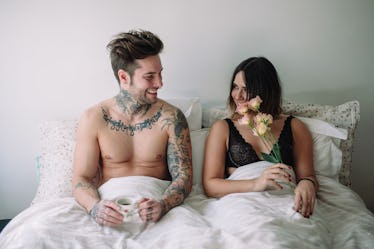 7 Questions To Ask Your Partner About Sex Before Your First Anniversary To Feel Closer To Them
You and bae made it to a year — yassss! The one-year benchmark officially places your relationship in the long-term zone. You've probably had some pretty serious talks, maybe you've met each other's parents, and you might even be shacked up at this point. But if you think you know everything there is to know about this person, think again, because there's probably a lot about their pillow-talk persona you may not be aware of. So, what are the best questions to ask your partner about sex before your first anniversary?
Even when you feel like you know the ins and outs of someone, they might still surprise you, and that's not a bad thing! Turning to your SO and saying, "Let's talk about sex, baby," might make you little nervous which is totally understandable. But when it comes to nookie, going over certain things can be highly beneficial for your relationship. You might be like, Do I have to? And well, no, you don't have to do anything, of course. But not only will you feel closer with your boo after talking about a few things, you'll probably both enjoy a much more satisfactory sex life, too.
Asking your partner these seven questions about sex before your first anniversary will help you learn more about them and maybe even more about yourself, too.