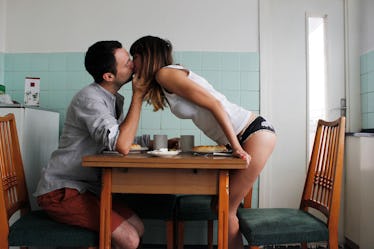 5 Subtle Ways Your Sex Life Changes When You Move Off-Campus
Leaving home for college is a huge step toward becoming an adult. This time serves as a transitional period between living at home and truly living on your own. You're given a lot of freedom in the dorms, but staying on campus does have its downsides. You don't have to worry about sneaking your hookup partner past your parents, but you do have to deal with establishing boundaries with your roommate. You'll likely still have roommates when you leave the dorms (rent isn't cheap, y'all), but there are subtle ways that your sex life changes when you move off campus.
Whether you're renting a house with friends from school or you managed to snag a solo studio apartment, moving off campus has a number of advantages, as well as a few changes that might take some getting used to. With great power comes great responsibility, and while you're probably not saving the world, signing a lease means you have a new set of responsibilities to go with your newfound freedom.
From complementary toilet paper to multiple late night dining options, there are likely some aspects of dorm living that you took for granted. Then again, the ease of bringing a date back to your apartment might make having to buy your own TP worth it. Here are five ways that your college sex life changes when you move off campus.