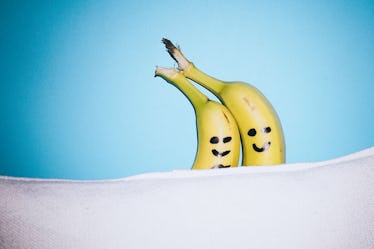 5 Dorm Sex Tips Your RA Won't Tell You, But These Women Swear By
For many people, going away to college provides them with their first real opportunity to explore their sexuality. This newfound freedom is exhilarating, but there are some minor obstacles to work around — namely the dorm rooms themselves. With roommates, twin XL-sized mattresses, and super thin walls, figuring out how to have sex in a college dorm room (and actually enjoy it) can be challenging. Your RA will give you the low-down on fire safety and underage drinking, but there are some tips you have to learn on your own.
Consider this your unofficial syllabus for dorm sex 101. In this introductory lesson, I'll cover the terms you need to know (sexiling, anyone?). Once you've mastered the vocabulary, I'll provide you with tried-and-true hacks for acing this hands-on course. I assure you, this is one seminar that has real-world applications. Oh, and you are encouraged to practice outside of class. Just remember to be safe.
To start, I'll be covering sexiling. This is an act in which one roommate banishes the other from their shared living space in order to hook up. It's not the classiest of moves, but if and when it happens to you, try to keep in mind that the situation will likely be reversed down the road. In addition to practicing patience and respect, here are five other smart suggestions for having sex in college, from women who have been there.