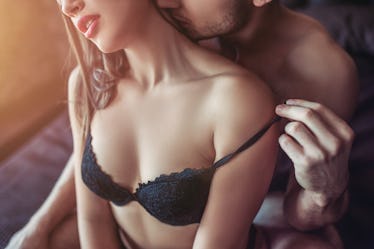 Here's How Experts Define Maintenance Sex, & Why It's One Way To Keep The Spark Alive
Maintenance sex is a term that gets thrown around pretty often, and it can sometimes get a bad rep as sex just for the sake of, well, having sex. It's a tricky topic but an important one, because according to experts, it's actually a good way for couples to keep intimacy alive in a long-term relationship. Maintenance sex can also serve as a lesson in the importance of consent in relationships, because consent is still a central requirement no matter what. But first, what is maintenance sex, anyway?
"Maintenance sex is making sex a priority and just doing it even if you aren't in 'the mood'," Kelley Kitley, a psychotherapist and licensed clinical social worker, tells Elite Daily. It's also sometimes called "duty sex," a term Kitley dislikes. "That makes it sound like a chore and submissive," she shares. Maintenance sex should be neither of those things. She differentiates the two by saying that the purpose of maintenance sex is to help maintain a level of intimacy, and that it's sex you choose to have with your partner, even if you're not particularly turned on at the moment but you're willing to do it anyway.
What maintenance sex is not, however, is having sex when you have been coerced, pressured, or you straight-up do not want to, Dr. Fran Walfish, Beverly Hills family and relationship psychotherapist and author of The Self-Aware Parent, tells Elite Daily. "Let's get one thing straight: Rape, or sex by force, is never acceptable whether with a long-term partner, acquaintance, or stranger," she explains. Period.
With that distinction made, is maintenance sex something you should have if you're in a relationship? And if so, why? Here's what the experts say.