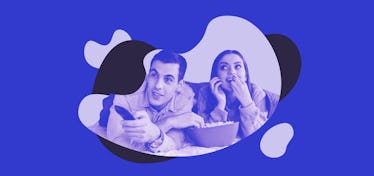 12 Disney Date Ideas That'll Bring The Magic Kingdom Feels To Your Home
Shanelle Infante, Elite Daily
It's time to sprinkle a little magic on your typical date night at home. By letting some of your favorite movies inspire you, you'll be surprised at just how many at-home Disney date ideas you can come up with. Perhaps, your go-to plan is to watch a Disney movie together on the couch. Well, now you can live out your very own fairy tale without ever having to leave the comforts of your living room.
All it takes is a bit of imagination to get your creative juices flowing. Instead of ordering a pizza for delivery, challenge yourself to make a delicious feast and have your partner "be your guest." Turn your wine night into a wine and paint night using "all the colors of the wind." Get your DIY on with a craft project that's inspired by your favorite Pixar movie. You can even work out together if you want to be ready for anything that may come your way, like Mulan and Li Shang.
Let your favorite Disney movie or favorite thing to do in the parks be your magic carpet ride to the date night of your dreams. If you need some fresh ideas, simply try any of these 12 Disney date ideas that will have you feeling happily ever after at home.