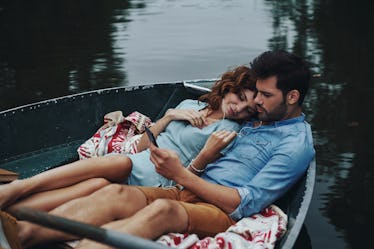 8 Magical Dates For Spring If You Love Everything About Disney
Shutterstock
When you've found the Mickey to your Minnie, date night is your favorite night of the week. Of course, you enjoy any time you're able to spend with your boo, but there are some Disney date ideas for the spring that will make your next date extra magical.
For instance, instead of your typical dinner and a movie night, switch things up by having breakfast for dinner. How cute would it be whipping up Mickey-shaped waffles with your partner and having a carpet picnic? You could also spice things up by sharing a Lady and the Tramp-style meal, or getting cozy while sending off dreamy lanterns like Rapunzel and Flynn Rider from Tangled.
Sheesh, who knew all this time the Disney classics you watched on repeat growing up were actually quality date inspo? All you need to do is choose your fave Disney couple to take a cue from, and you'll be ready with a fresh idea that's romantic and fairytale-like.
The best part of all is that these date ideas are perfect for the season that's filled with beautiful blooms all around. So, what are you waiting for? You're happily-ever-after date night is waiting for you to embrace this spring.