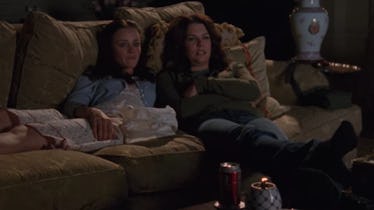 12 'Gilmore Girls'-Inspired Things To Do On A Summer Night In With Your Roomies
There's a reason why you keep revisiting Gilmore Girls on Netflix. You love Lorelai and Rory, and it seems like there's always something exciting going on in Stars Hollow. Instead of simply rewatching the show for the millionth time, take a cue from your favorite episodes and try these Gilmore Girls-inspired activities to do in the summer at home. It's time for you to fully embrace that W.W.T.G.G.D — what would the Gilmore Girls do — lifestyle.
If you live for cozy movie nights, stream a classic and make sure to have a bunch of snacks on hand as if you made a pit stop at Doose's Market. Channel your inner Sookie by whipping up a meal that's worthy of being featured at the Dragonfly Inn. Pack a picnic basket with goodies your partner will love for a backyard date night. You can even draw inspiration from the many festivals Taylor Doose organized over the years, and host an intimate one of your own with your roomies.
There are seven seasons and a revival to pull creative ideas from, but if you need some help getting started, here are 12 Gilmore Girls-inspired activities ready for you to start planning at home. Try one or say, "Oy with the poodles already," and try them all.