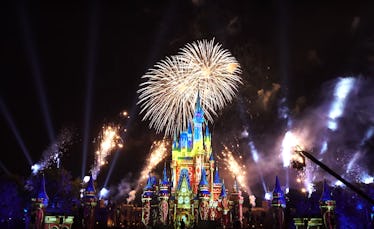 11 Disney World Fireworks Shows You Can Stream Online For Date Night
There's no better way to end a magical day than with a fireworks show, and Disney knows that. Add in your favorite songs from Disney movies, and you've got a spectacular show that's sure to make your heart burst and eyes water with happy tears. Not only are fireworks super dreamy, but watching a show is a romantic way to spend date night with your partner. When you're at home, you can still have a romantic evening with Disney World fireworks shows on YouTube.
You don't even need a park ticket, and forget having to camp out in front of Cinderella's castle to snag the perfect spot. All you need to do is set up your computer so you and your bae have a clear view of the screen. Then, press "play" and enjoy the light show from the comforts of your home. If you want to recreate that perfect Disney day, you can make some buttery popcorn or whip up Mickey-shaped snacks to share with your partner while you watch.
What's great about YouTube is that you're able to deep-dive into some fireworks shows you might have missed out on. Among the 11 on this list, you'll find the classics you love, some seasonal ones you only get to see once a year, and nostalgic faves that no longer play in the parks. You can pretty much spend hours just watching fireworks show after fireworks show, and honestly, that sounds like a date night dream come true.