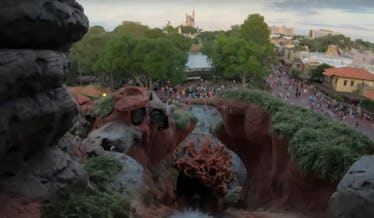 12 Virtual Disney World Rides To Stream That'll Still Give You Thrills At Home
If you could wish upon a star, your dream might be to explore all the parks at Walt Disney World in Florida. Well, your wish has been granted, because even if you're not physically at the most magical place on Earth, there are videos you can watch that'll take you on virtual Disney World rides. You can create your very own park day without ever having to leave your couch.
You have everything you need already right in your own home. Step one is to throw on all your park attire, like a fun spirit jersey and sparkly Minnie ears for a Disney #OOTD. Then, make yourself some Disney-inspired snacks in the kitchen. (Bonus points if you're able to make something Mickey Mouse-shaped and extra cute for the 'Gram.)
Finally, settle into your couch with a YouTube playlist ready to go of all your favorite rides. With a wide range of thrill ride faves like Splash Mountain to all-time classics like "it's a small world," you're sure to have all your Disney dreams come true. The best part of all is you won't even need a FastPass, because the fun is waiting for you right now. All you need to do is press play.