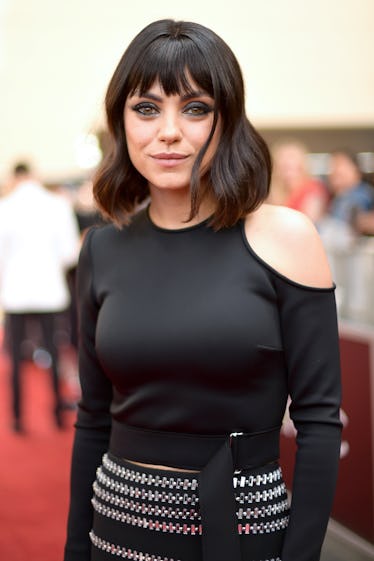 11 Of The Most Dramatic Celeb Hair Transformations Of 2018 That Are So Good, I Can't Look Away
Matt Winkelmeyer/Getty Images Entertainment/Getty Images
For most celebs, switching up their hair frequently is almost like second nature. Whether it's for a new film role, an upcoming music video, or just to send news outlets into a frenzy, almost every week, someone else seems to be doing something drastic to their locks. And with all the hair drama that has gone on in the first seven months of 2018, I've decided to round up some of the best and biggest celebrity hair changes of this year.
But before we get to that, it always amazes me that celebs can just go bleach blonde one day, and then, go back to their natural color the next without having any apparent damage. (I'm looking at you, Kim Kardashian.) Of course, this can always be avoided, as many of them have the option to choose from a never-ending collection of wigs and weaves to install at their leisure, but sometimes, things don't always go as planned.
Actress Emilia Clarke dyed her hair platinum blonde back in 2017 (perhaps an ode to her Game of Thrones character Khalessi), and while she looked stunning, she later revealed to Vanity Fair that it was one of her biggest beauty mistakes, calling the decision "friggen stupid." Let's hope there aren't many other celebs on this list who feel the same way.
SZA
The BET award-winning singer recently swapped her signature voluminous, long, black locks for a short, red-hot bob. While this was quite the drastic change, being as gorgeous as she is, SZA pulled off this look with ease.
Pete Davidson
Pete Davidson, otherwise known as Ariana Grande's overnight fiancé (just kidding!), seems to be a spur-of-the-moment kind of guy — and that goes for his hair as well. On July 2, Davidson debuted his platinum blonde 'do on Instagram for the world to see, captioning the photo, "big time adolescence."
Katy Perry
Singer and American Idol judge Katy Perry is no stranger to bold hairstyles. After switching from long locks to a pixie cut last year, Perry revealed that she had dyed her hair to an ultra violet hue while making a stop in Germany for the European leg of Witness: The Tour.
Mila Kunis
Former That '70s Show actress Mila Kunis debuted a loosely waved bob and blunt bangs at the Billboard Music Awards back in May. While it's unclear if the bangs were clip-ins, this particular look is her most drastic (and arguably most gorgeous) to date.
Cardi B
Everyone's favorite rapper Cardi B posed for the 'gram in early June rocking a multi-colored wig, styled in a half-up, half-down look, complete with a top knot. In typical Cardi fashion, the new mom put on a pair of rainbow stilettos to match.
Tessa Thompson
Actress Tessa Thompson has been rocking waist-grazing braids this summer, and she looks absolutely spectacular. In mid-June, she rocked the look at the MTV Movie & TV Awards and shut the red carpet down.
Busy Philipps
Busy Philipps seems like she's that girl who's always down for a good time, and clearly, she's making no exceptions with her hair. The soon-to-be late night host first showed off new her "rosé all day" look back in April.
Jonah Hill
Clearly, men want in on the pink hair trend as well. But Jonah Hill recently opted for the brightest pink he could find. The actor revealed his bold decision on Instagram in mid-June, captioning the photo, "Omg you guys !"
Ruth Negga
Much like Thompson, the gorgeous Ruth Negga also decided to rock box braids for the summer. Since most of us are so used to seeing the Loving actress wearing her signature pixie cut, this look is as refreshing as it is stunning.
Leighton Meester
Former Gossip Girl star Leighton Meester shocked everyone when she decided to dye her iconic chocolate brown locks to a platinum blonde. Even more recently, she ditched the platinum again, opting to go back to her Blair Waldorf brown locks. But either way, she looks fabulous.
Alicia Keys
Alicia Keys is just a girl, and she's on fire. While the singer has notoriously rocked a head of textured curls, she just debuted an incredibly short, red 'do on Instagram. It's unclear if the new style is part of a new project, but regardless, it's red-hot!
With all these celebs switching up their tresses this year, right now is a great time to get some hair inspiration if you're itching for a new look!