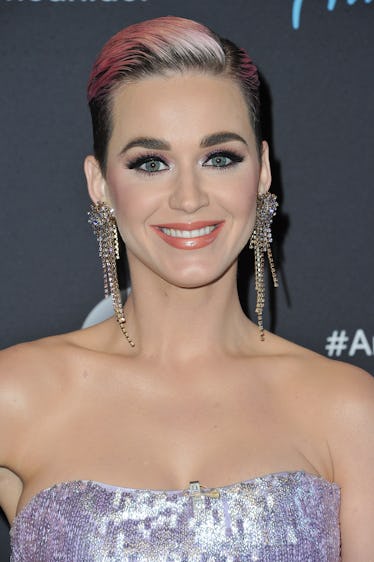 Katy Perry Just Dyed Her Hair This Year's Hottest Color & It's Ultra Intense
Allen Berezovsky/Getty Images Entertainment/Getty Images
Hot off the heels of both the 2018 Met Gala, where Katy Perry stunned us all by showing up as an actual angel sent from above, Perry stunned again at the season finale of American Idol, where she sported a long bob for her performance with Catie Turner — totally different from the super short platinum 'do she had before. However, the singer and American Idol judge has thrown everyone for a loop yet again by debuting a fresh new hair color. This time, Katy Perry's new hair is right on trend with this year's absolute hottest color: ultra violet.
Various iterations of purple (lilac, lavender, ultra violet, you name it) have been deemed some of this spring and summer's biggest color trends. And as Pantone's 2018 Color of the Year, ultra violet has gradually swept the fashion and beauty scene by storm. So it's only fitting that the hue has found its way onto Katy Perry's head.
Rather than ultra violet, however, Perry's hairstylist, Rick Henry of @NineZeroOne Salon, coined this look with a fruitier term, so to speak. Henry revealed Perry's bright new 'do in an Instagram post, captioned, "First show of the European Leg.... introducing Blueberry Crush ✨💜✨ @Katyperry 🔮 |💄 @manthony783 #katyperry #hairbyrickhenry #rickhenryla #Germany# Witnessthetour."
While I low-key freaked out at the initial thought of Perry dying her hair so frequently, it turns out Henry spared her strands by only using temporary color on her, just in time for the continuation of her Witness Tour in Europe. And get this: The product Henry used to craft "Blueberry Crush" only costs $20.
Using Joico Color Butter ($19.99, ulta.com) in purple, Henry was able to infuse Perry's already platinum hair with a pop of va-va-voom violet. (Should I just coin that one myself?) To achieve this particular shade, Henry mixed half an ounce of Color Butter Purple with 2 ounces of Joico's K-PAK Intense Hydrator ($20.99, ulta.com) and applied it onto Perry's hair after it was cleaned, but while it was still wet. He then let it sit for 10 minutes, rinsed it out, shampooed again, and Perry was an ultra-violet vixen, styled to perfection.
Overall, Color Butter boasts an "ultra moisturizing" (ha) formula that's also designed to strengthen and repair the hair, meaning you can play up the fun hair colors (within reason, of course) without as much of the risk for your hair drying up and falling out.
If you want the color to appear lighter on your hair, you can either apply Color Butter to damp hair, which will leave you with a less intense version of the color, or you can dilute the shade with a bit of conditioner. For a darker, more vibrant version of the color, you could apply Color Butter to your hair while it's dry, or you can go through a couple additional rounds of the Color Butter application process, so the color builds up.
If you're itching to hop on the ultra violet train, you've got super light blonde strands ready to take on color, and you're looking for a slightly more permanent shade, you might opt to try Joico's Color Intensity Semi-Permanent Color. According to the brand, Perry's Blueberry Crush hair can be copied with Color Intensity by mixing 2 ounces of Joico's Color Intensity Clear Mixer and a fourth of an ounce of the Indigo Color Intensity. However, while fantasy hair colors are incredibly fun to have, achieving them safely and correctly takes a bit of work. So if you're opting for a more permanent or semi-permanent look, leave that up to the professionals at a Joico salon near you.
Believe it or not, this isn't the first time Henry has used Color Butter on Perry. If you remember, she recently debuted a bright pink 'do, courtesy of Color Butter Pink, as an ode to the cherry blossoms she "fell in love with" along the Asian leg of her Witness Tour.
For someone like me who perpetually changes their own hair, while trying not to let it fall out, temporary hair colors are a safer way to have fun with your hair (again, within reason) with a lower risk of permanent damage. Considering it feels like color trends change by the hour, hopefully my fellow hair maniacs and I can keep up with the trends as well as Katy Perry can.