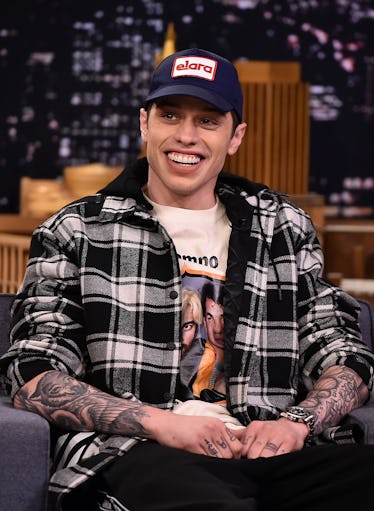 Pete Davidson Dyed His Hair & Looks Unrecognizable In His Latest Pic With Ariana Grande
Theo Wargo/Getty Images Entertainment/Getty Images
Pete Davidson and Ariana Grande's lives have changed a lot and very fast as of late, so why not add another massive change to the pile? This weekend, Davidson revealed on Instagram that he dyed his hair blond, and Pete Davidson's bleached blond hair is a big move for the comedian. On July 1, Davidson posted an Instagram of his new hair and captioned it "big time adolescence." The next thing he posted was a shot of him and Grande sitting outside somewhere and wearing ~trendy~ face masks and his hair is literally all I can look at. Is he trying out an Eminem impression or...
Anyways, the hair is a look, and it's just one of many changes Davidson's made in his life recently. (Same goes for Grande.) The couple already has matching tattoos (they both have a cloud on their left middle fingers). Davidson also has a tattoo behind his left ear of the Dangerous Woman bunny mask. Most recently, Grande added another tattoo to her collection, and it's one that honors Davidson's family by mimicking one of his own tattoos.
Davidson's father, Scott Davidson, was an NYC firefighter who died on September 11, 2001. Davidson has a tattoo of his father's badge number, "8418," on his left arm. Grande, according to Entertainment Tonight, got the same digits tattooed on her left foot. Grande and Davidson also started dating while her hair was still platinum blonde (according to Davidson's Instagram) and she dyed it back to brown, so between these tattoos, their flash engagement, their hair color, and their new apartment together in NYC, lots of things are changing really fast for the couple.
Davidson posted this shot of his new hair on Instagram on July 1.
Big Time Adolescence is the name of the upcoming film Davidson is starring in. Considering the caption on his Instagram, it looks like he may have changed his hair specifically for the role. Variety reports Davidson will be playing a charismatic college dropout living in his suburban hometown. The film's director/screenwriter, Jason Orley, said in a statement, "This is a story I've wanted to tell for a very long time, and I am so unbelievably grateful to the team at American High for giving me the chance to bring it to life. I also couldn't think of a better partner than Pete Davidson to lead our incredible cast."
Davidson posted another photo that showed him and Grande (and his new hair) chilling outside wearing medical masks.
He captioned it, "late night l&b" with the pizza emoji.
Fans in the comment section of Davidson's Big Time Adolescence post show they're into the change. Some also tweeted about it, because of course.
Issa look.
Davidson and Grande's relationship has happened so fast, but they're not the only celebrities that got engaged quickly. (Not even close.) Grande and Davidson join the ranks of Khloé Kardashian and Lamar Odom, Kaley Cuoco and Ryan Sweeting, Amy Schumer and Chris Fischer, Katy Perry and Russell Brand, Britney Spears and Kevin Federline, Mariah Carey and Nick Cannon, and many more.
Cannon, in fact, is good buddies with Davidson since he was on Wild 'N Out. Not long after Grande and Davidson's engagement, Cannon told Entertainment Tonight that he's happy for the couple. "He called before he was going to do it, and I said, 'Salud!'" he said. "He was really excited, so I was like, 'I love it, man. Keep it going.' Love is in the air!" Cannon said he knows how it feels to be so intensely in love so fast and having the desire to make things official. (That's what happened with him and Carey.) He said, "I've been one of those dudes with one of those fantasy, fantastic relationships where you just go off and get married, so I was like, 'Do it.'" Welp, he sure did.