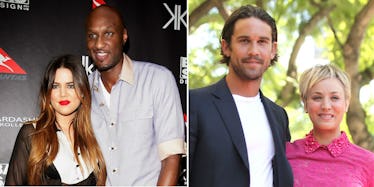 These Celebrities Got Engaged Super Quick, Just Like Ariana Grande & Pete Davidson
Lisa Maree Williams/Getty Images Entertainment/Getty Images, Mark Davis/Getty Images Entertainment/Getty Images
Pete Davidson officially confirmed his engagement to Sweetener songstress Ariana Grande in the most Pete Davidson way ever — during a hilarious June 20 appearance on the Tonight Show with Jimmy Fallon. "Now you know you didn't need to get engaged to Ariana Grande to get on our show," Fallon joked. "But I did, though," Davidson laughed. "I feel like I won a contest, it's so sick." With the news coming mere weeks after initial reports of the pair's budding romance (and their early May breakups with other people), it's safe to call it a whirlwind. Especially given Grande was spotted onstage with her fresh bling all the way back at Wango Tango on June 2. And yet, the Hollywood elite just seems to ~know~ before the rest of us. In a circle where quick engagements (and quicker divorces) are kind of the norm, Davidson and Grande's whiplash-inducing relationship maybe isn't that surprising after all. There are plenty of celebrity couples that got engaged quickly, if not quicker than Grande and Davidson. Apparently, things just move fast for the rich and famous. While the success rate for similarly paced courtships may not be the most comforting, here's hoping Davidson and Grande outlast the others.
Kaley Cuoco And Ryan Sweeting
Big Bang Theory star Kaley Cuoco wasted no time with tennis pro and now ex-husband, Ryan Sweeting. Just three short months into the couple's romance, Sweeting popped the question and the pair married in a surprise New Year's Eve wedding that same year. But what began so sweetly ended in a bitter a divorce 21 months later. "I honestly thought I wouldn't get married again," Cuoco admitted to Cosmopolitan after confirming her engagement to current fiancé, Karl Cook. "I married someone the first time who completely changed. The person I ended up with was not the person I originally met. And that wasn't my fault — that was his." Ouch.
Khloe Kardashian And Lamar Odom
Lamar Odom and Khloe Kardashian's dramatic seven-year relationship came to a final end with their 2016 divorce, but their 2009 union unfolded much quicker. Documented on Season 4 of Keeping Up With The Kardashians, Kardashian and Odom were engaged just three weeks after meeting, and married just 9 days later. Only a month after their first introduction, the pair was announced as Mr. and Mrs. Odom.
Their marital bliss didn't last. Following Odom's reported drug abuse and cheating allegations, the reality TV star and her NBA baller hubby separated in 2013. But proceedings were halted after Odom's 2015 drug overdose. Despite rumors of a reconciliation, their relationship was ultimately past repair and the divorce was finalized by 2016.
Amy Schumer And Chris Fischer
Just two days after confirming her relationship with celebrity chef, Chris Fischer, via Instagram, Amy Schumer and her brand new beau made it official. Like, a marriage license, rings, and a white dress official, making Ariana Grande and Pete Davidson's quick coupling look like a long-term relationship. Despite remaining "just friends" for six months, Schumer admitted she knew he was the one "like a month in." Fischer proposed just days before their February 13 nuptials, waking a sleeping Schumer with the ring. "I got you this," he said. And who ever said chivalry was dead?
Katy Perry And Russell Brand
Before breaking things off via text (not cool) more than two years later, Russell Brand proposed to his girlfriend of just three months, Katy Perry, while on a romantic New Year's trip to India. Despite meeting on set of Brand's 2008 flick Get Him to the Greek, the pair didn't become an item until nearly a year later, when they reconnected at the MTV Video Music Awards. From there, they wasted no time. In October 2010, Perry and Brand married in an extravagant India wedding, announcing in a statement to MTV News:
Russell Brand and Katy Perry are overjoyed to confirm that they were pronounced Mr. and Mrs. Brand on Saturday, October 23. The very private and spiritual ceremony, attended by the couples' closest family and friends, was performed by a Christian minister and longtime friend of the Hudson Family [Katy's maiden name]. The backdrop was the inspirational and majestic countryside of Northern India. 
However, things took a turn. By December 2012, nearly three years after their engagement, Brand filed for divorce.
Mariah Carey And Nick Cannon
After only six weeks together, now-exes Mariah Carey and Nick Cannon walked down the aisle. And then they did it again, and again, and again, renewing their vows each year on the anniversary of their union. Five straight years in a row. "I have to do it every single year," Cannon told Us Weekly. "If you were married to Mariah Carey, you'd want to marry her every year too! I just have to keep doing it to make sure it's real." Clearly.
Despite their 2014 separation, Carey and Cannon managed six years (and beautiful twins!) out of their six-week courtship.
Britney Spears And Kevin Federline
Britney Spears and Kevin Federline's early romance was so 2000s. The pop sensation and her backup dancer beau kicked things off in 2004, when they were spotted hitting the L.A. club scene in April. By June, Spears had popped the question (yasss to breaking gender stereotypes). Despite first rejecting her marriage proposal, according to MTV News, Federline quickly changed his mind. They were headed towards the altar after nearly two months together.
Things continued to pick up speed, with the pair marrying in a surprise ceremony that September. By April of the next year, Federline and Spears announced they were expecting their first child together, Sean Preston. By November 2006, only shortly after welcoming their second son, Jayden James, Britney filed for divorce.
Kenny Chesney and Renee Zellweger
By the time fans were finally wrapping their heads around Kenny Chesney and Renee Zellweger's sudden 2005 wedding, Zellweger had already filed for an annulment. In fact, it ended even quicker than it began, after 128 days. Following the split, rumors surrounding Chesney's sexuality circled. "That is the most unbelievable thing in the world. 'Because Renee cited fraud, Kenny's got to be gay,'" Chesney said to Playboy. "I've got a long line of girls who could testify that I am not gay."
For her part, Zellweger stuck by Chesney post-split. Speaking to The Advocate, she said:
It made me sad that somehow people were using that as a way to be cruel and calling someone gay as a pejorative, which has fateful consequences. Of course, there's the bigger-picture problem of why anyone had to make up a story at all.
Chris Hemsworth And Elsa Pataky
The middle Hemsworth bro and his wife of nearly eight years were first introduced by their shared representation in 2010, and took only three months (at least since going public) before marrying in Chris' native Australia. And despite the fact that the parents of three are still going strong, Pataky admitted to Vogue Australia in May that it was fast.
"We did everything very quickly – I don't know how we survived as a couple," she told the publication. "We were married and then a year after we had kids. It puts a lot of pressure on a marriage, but we came out good because there is a lot of love between us and we are very strong personalities but love each other so much. We make it work."
Colton Haynes And Jeff Leatham
After opening up about his sexuality in 2016 and going public with then-boyfriend and celebrity florist, Jeff Leatham, in January 2017, Colton Haynes was really living. While on a romantic Mexican Valentine's getaway just a month later, Leatham proposed to his boyfriend with a personalized video message. "Cher [sang] their favorite song 'I Got You Babe,' followed by video messages from their family members and close friends — including Melanie Griffith, Serena Williams, Ally Maki, and many more," a rep for People revealed at the time.
Although the two married in a lavish ceremony officiated by Kris Jenner (!!!), Haynes sadly filed for divorce six months later.