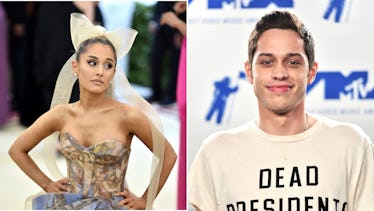 Ariana Grande & Pete Davidson Decorating Their Apartment Is Too Cute For Words
Cindy Ord/Getty Images Entertainment/Getty Images Chris Jackson/Getty Images Entertainment/Getty Images
Ariana Grande and Pete Davidson's relationship has been progressing so incredibly fast since news first hit that they are an item. They've started dating, gotten engaged, and apparently moved in together all in the span of just a few weeks. And this latest detail about their shared home is just too cute to handle. This Instagram of Ariana Grande and Pete Davidson decorating their home if giving me serious relationship envy, and I can't handle the adorableness.
Grande took to her Instagram story on June 30 to share some new unfolding details about the life she's building with husband-to-be Davidson. Davidson recently confirmed their engagement and the two have also apparently moved in together, according to reports from multiple media outlets, with the two supposedly taking a luxury apartment together in New York City. And these recent posts of Davidson and Grande that the songstress shared via her Instagram stories prove that they're the real deal — and they're not pushing the brakes on their relationship anytime soon.
According to these IG posts, Grande and Davidson have officially begun to make their house a home. In one post, we see Davidson with a couple of moving boxes and Grande posting a picture of their moving process with the caption "time to f*cking organize" attached to the post. He looks very smiley and happy, which makes my heart feel so warm.
In another shot from the IG story, the couple hung out with what appeared to be family and friends and watched the 1986 classic Labyrinth. Extra fun? Some of the pillows on the sofa are shaped like clouds (we know how much she loves clouds). And while there's still not much in the apartment, they're apparently getting it ready, judging by another short video in which Davidson talks about where they might put pictures. Ugh, too cute.
It's also a far cry from the sad, empty apartment that Davidson showed off a few days ago on Insta. That shot showed the apartment absolutely empty except for a few boxes and, of course, a giant TV. Gotta have that.
This relationship between Davidson and Grande has been moving so fast that I can't even keep up with it — and I know everything there is to know about celebrity news. They were first rumored to be engaged to be married just a couple of weeks ago on June 9. Apparently a source told Us Weekly that Grande and Davidson "were telling people that they're engaged" while attending Robert Pattinson's birthday party in Los Angeles on June 9.
It's kind of crazy how quickly this relationship has developed since Davidson and Grande have started dating. That same Us Weekly source told the magazine that,
They are both constantly making each other laugh. Their moms have met. They've been very public with their relationship on social media, and they are very in love.
Grande and Davidson began dating in early May 2018, according to the first news of their relationship thast broke via E! News on May 21. At the time, an inside source told E! that Grande and Davidson were only casually dating. "It just started and is casual," the source told E! News for their initial report.
Clearly, it's become a lot more than casual. On The Tonight Show with Jimmy Fallon on June 20, Fallon said to Davidson that he didn't have to get engaged to Grande to come on the show. He added, "But I did, though," Davidson replied. He went on: "I feel like I won a contest. So sick. It's f*cking lit, Jimmy."
But things have been moving very rapidly since. Will the world see a star-studded wedding this coming year? It seems like the sky's the limit for these two, and I'm ready to see what the rest of their lives have in store for them.