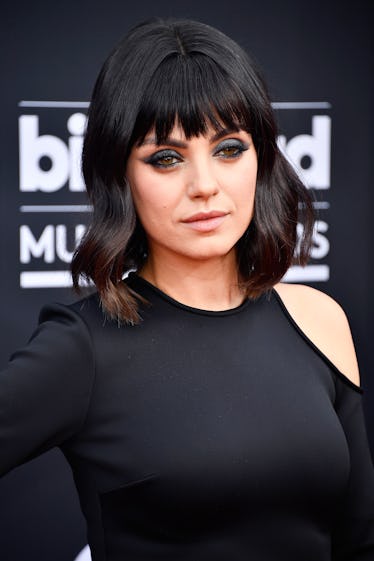 Mila Kunis Made A Major Hair Change At The Billboard Music Awards & Looks Unrecognizable
Frazer Harrison/Getty Images Entertainment/Getty Images
I love a good celebrity hair transformation. (And honestly, who doesn't?) I'm of the belief that the more dramatic the change, the better. So you can imagine my excitement when I discovered that Mila Kunis' new hair at the billboard Music Awards makes her look totally unrecognizable. Seriously, this look, whether real or not, is a total game changer for Kunis.
The 34-year-old glided on to the red carpet, and I had to do a double take. Not only did she look gorgeous (as per usual), but the actress was sporting an unfamiliar bob with a set of blunt, straight-across bangs. The bangs, which, judging from her close-up photo from tonight, may be clip-ins, end just below her eyebrows in a piece-y, laid-back kind of way. (More than likely, this 'do required the mastery of an incredible stylist to perfect.) The lob itself was styled into a set of smooth, loose curls, which ended just above the actress' shoulders. At first glance, Kunis' color looked jet black, but upon further inspection, I noticed an ever-so-gradual ombre effect at the tips of her strands. The new color is super subtle, but it's a change — just like the bangs — nonetheless.
The subtle ombre was pretty much the only splash of color for Kunis' red carpet look for the 2018 Billboards. The freshly-cut fringe matched the raven-haired beauty's makeup look, which consisted of a smoky black eyeshadow that extended slightly beyond her lids, creating a faux cat eye effect. The sultry look was finished off with a healthy dose of kohl eyeliner drawn into her waterline. Kunis' nails were lacquered in a metallic hue, which paired perfectly with the mirrored accents on her skirt.
Speaking of her outfit, the actress looked ridiculously chic in a monochromatic black and silver reflective ensemble. The look was comprised of a simple, long-sleeved black shirt which featured a cutout on one shoulder and a belt at the waist. The actress completed the look with black miniskirt embellished with reflective detailing and simple black pumps.
Even though this is the first time in recent history that Kunis has opted for straight-across, brow-grazing bangs, the mom of two looked like she was born to wear her new hair look.
Over the past few years, Kunis has sported variations of a dark brown bob and switched around the direction of her part from middle to side to deep,deep side (and looked amazing in every one, I might add).
A small part of me wonders whether these new bangs are the real deal; after all, celebrities are notorious for giving new fringe a whirl, thanks to the power of faux clip-in bangs. That said, Kunis' blend pretty seamlessly with her look, so it's hard to tell.
One thing I know for certain: This hair transformation — however permanent it may be — went down pretty recently. Just a few days prior to the Billboard Music Awards, Kunis was spotted sans-bangs enjoying date night at a U2 concert with hubby, Ashton, in L.A., according to AOL.
Incidentally, the fact that Kunis lives in L.A. and is surrounded by Cali style might just have inspired her decision to make the chop and debut the bangs. After all, "French girl hair," (i.e. a chic, laid-back bob, often featuring choppy bangs) is all the rage on the West Coast as of late. But Kunis wasn't the only celeb rocking a choppy cut on the BBMA red carpet: Jenna Dewan also showed off a similar new French girl style, though the dancer kept hers pin-straight and without bangs.
Mila Kunis was one of the presenters for the 2018 Billboard Music Awards, among other A-list celebs, including Camila Cabello, Janet Jackson, and Jennifer Lopez. Kunis looked positively radiant on stage, thanks to her beaming smile, some help from glittery eyeshadow, and her new, super-shiny tresses. I've never considered getting bangs, but after seeing Kunis' new 'do, I might have some thinking to do before my next hair appointment.