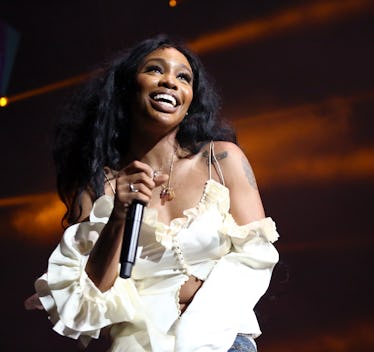 SZA Just Made A Pretty Drastic Hair Change & It's Quite Literally Red Hot
Ser Baffo/Getty Images Entertainment/Getty Images
Before I ever heard any of SZA's music, I noticed her hair. The singer's goddess-like, voluminous 'dos have been catching my eyes for years. A little while before I decided to go natural, I remember texting my friend and raving about how envious I was of SZA's big, beautiful hair, while I rocked a pixie cut. But, like most of us, sometimes, the 27-year-old wants to switch things up. And recently, she did just that. Yep, SZA has a new hairstyle, and it's red hot — literally.
On Thursday, June 28, the songstress took to Instagram to debut her new style and color. The St. Louis native opted for an auburn-colored bob, styled into big, loose waves. It appears she's wearing falsies in the photo, but she kept her eye and lip makeup to a minimum, which comes as no surprise, based on her past subtle glam.
This is definitely a big change for SZA, who, not too long ago, wore her locks in a straight, sleek look for the BET Awards, where she won for Best New Artist. Still, it seems as though fans are loving the new style, as many are raving about it in the post's comments.
Of course, this isn't the first time SZA has looked so good, it's made my jaw drop. Back in January, the artist showed up to the Grammys looking like a mythical goddess of sorts. Her pale blue gown was from none other than the Atelier Versace FW17 collection, and was covered in diamond-like sequins, feathers, and tulle. The dress flared out at both her wrists and thighs, but still offered a show-stopping slit. In typical fashion, the Ctrl songstress paired the look with natural-looking makeup and rosy cheeks. For her accessories, she wore some simple diamond bands around her index and ring finger and some dangly diamond earrings.
SZA was nominated for five awards that night, which included Best New Artist, Best R&B Performance, Best R&B Song, Best Urban Contemporary Album, and Best Rap/Sung Performance. Unfortunately, the singer went home empty handed and was very vocal about her upset.
Opening up to GQ, the beauty shared why she was "mad as hell" about not snagging up a single award that night.
"You feel like you're really falling short and you f*cking failed [your fans]," she told the publication.
She later added,
I was so grateful to even have been honored by being nominated and having so many people f*ck with my music. I feel like at some point you start to get sucked up into the accolades and you're like, 'Oh, this is what this is about, and this is what quantifies my success or me as an artist or a human being' ... We're changing little girls' lives across the world, and we didn't even know what we were doing when we started. This is something much bigger than me and a f*cking trophy. I'm appreciative of the opportunity. But sh*t happens.
Professional disappointments aside, even if you're not a fan of SZA's music, most of us can appreciate her realness. I genuinely think she's an artist who seems to be super down to earth. I also admire how she's not afraid to share some of her insecurities. Back in February, she opened up to Refinery29 about how she deals with her biggest skincare issue and why she prefers to use natural products over what dermatologists prescribe.
"I have this weird feeling that the apocalypse is upon us, so I have to choose products that I can find in nature," SZA shared. "I have cystic acne, so I use a Manuka honey mask to combat it and hemp oil to smooth out the surface of my skin. I also use a vitamin C serum and black soap, and that's it. If I go to the dermatologist and get a peel, she prescribes me sh*t after, but I don't use it. My skin goes crazy, and I break out."
SZA may definitely be onto something with the natural products, because her skin looks absolutely amazing!