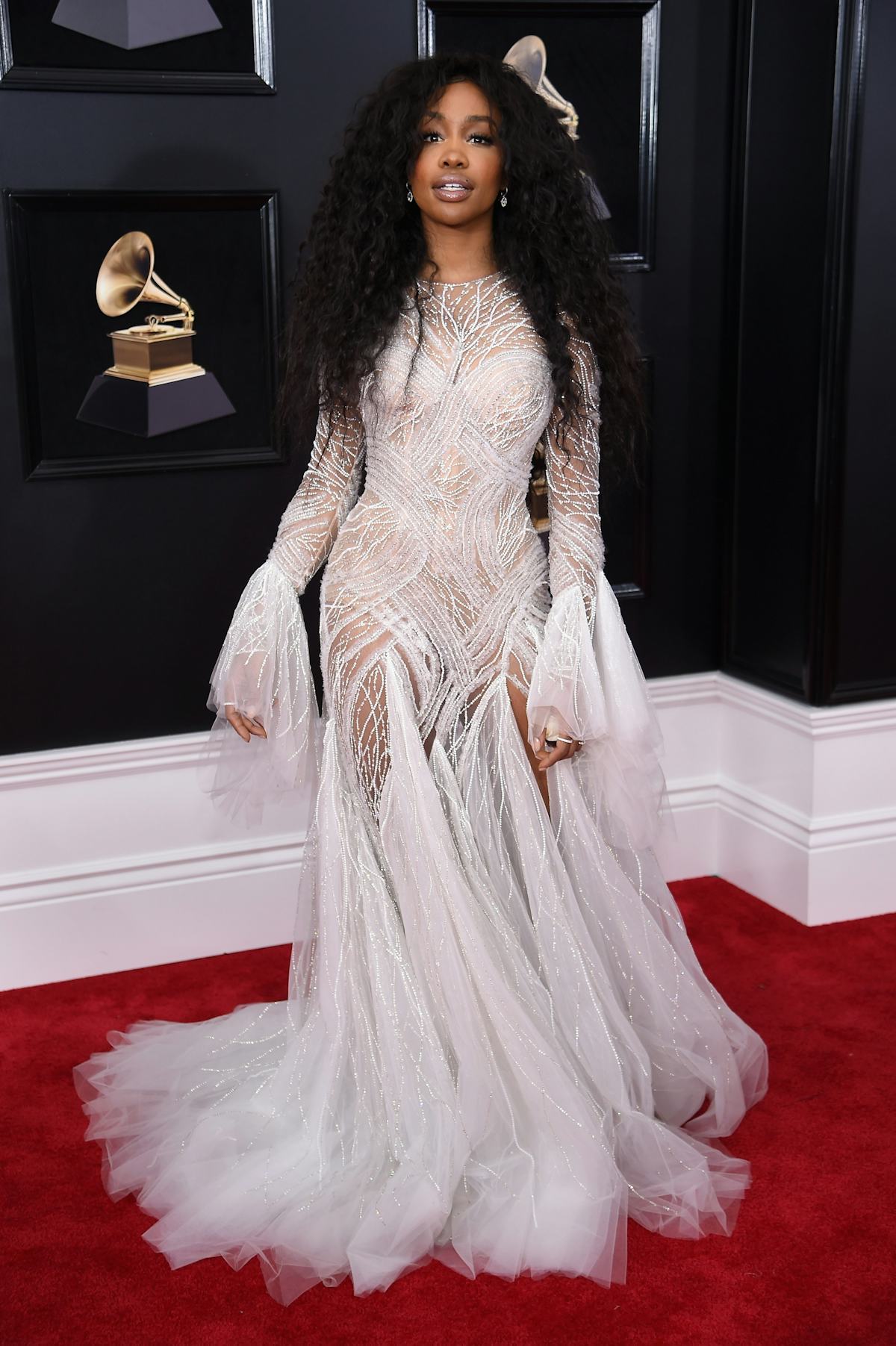 SZA Looks Like A Fairytale Princess At The Grammys & Twitter Is Living For It
Dimitrios Kambouris/Getty Images Entertainment/Getty Images
What do I have in common with Elton John, President Obama and Drew Barrymore? Each and every one of us agree that SZA has the it factor. Seriously, her stage presence is otherworldly and her style is killer. Of course, I couldn't wait to see SZA's 2018 Grammy look. Not only was she nominated for five of the prestigious awards, but she's also performing, which will totally cure all of my Sunday scaries.
If you're not familiar with SZA, I suggest you exit this story and listen to her album, Ctrl. Don't forget to come back, though! Normally when something or someone is extremely hyped, it can be a bit of a pack mentality moment. I'm here to assure you that not only is SZA the real deal, but once you finish Ctrl, you're going to want to scour the internet for every piece of music she's ever made. Start with her Soundcloud, and then give her current music your full attention.
For her first Grammy awards ceremony, SZA is nominated for Best New Artist, Best R&B Performance, Best R&B Song, Best Urban Contemporary Album, and Best Rap/Sung Performance. SZA is having a phenomenal year already and she dressed for the part — the singer looked like a fairy goddess on the Grammys red carpet and I am not worthy.
SZA wore a stunning pale blue Atelier Versace FW17 dress with sequins, feathers, and tulle. The dress is embroidered with a tree branch-like pattern that opens up into tulle sleeves and a tulle ballgown bottom. Seriously, black girl magic come through!
SZA rocked an all natural makeup look to match her metallic gown. Wearing products like Glossier, Hourglass Cosmetics, Make Up For Ever US, and NYX Cosmetics, this look is definitely something you can pull out of your beauty arsenal. The singer's hair was worn in a natural style with her long brown curls on full, glorious display.
Born Solána Imani Rowe to a Muslim father and Christian mother, she created her stage name by taking influence from rapper RZA and the Supreme Alphabet. SZA is short for "Sovereign Zig-Zag Allah," or "Savior Zig-Zag Allah." I think she's a star because she has created her own lane.
She has the vulnerability of artists like Lauryn Hill, but the stage presence of icons like Prince and Diana Ross. With hits like "Love Galore," her confidence shines, but then in the next breath, songs like "Anything" and "Doves In The Wind" make you question if she's pulling stories from your personal diary or adulting self-care journal.
I know there's that whole thing about not meeting people who you think are amazing, but I could totally see SZA being that friend that gives you the best guy advice when you're frustrated. Then make you put on the sickest outfit and give a prolific speech about knowing your worth.
In addition to being a singer and all around cool girl, she's also now adding Gap model to the mix. To celebrate its evolution over a five-decade span, Gap is presenting the new "Logo Remix" collection. The collection will feature some of Gap's signature styles on tees, sweatshirts, and rugby shirts pulled straight from the store's archives. When SZA was interviewed by Refinery29, she noted that the key to having style was to "stop dressing from the outside".
[I used to be one of those people] where it's like, if I wear this, in this color, in this arrangement, then I am a put-together person, who is trustworthy...But I think part of the truth is that whatever makes you comfortable, whatever makes you feel good, even if its a brown sack, will translate to the outerworld. It's all about how you wear it and how you carry yourself.
Looks like she totally followed her own advice for her first Grammys, and Twitter took note.
And she also brought her mom and grandma to the show? A true class act if I've ever seen one.