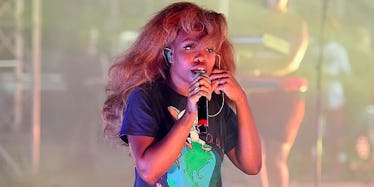 SZA's Real Name Actually Has A Beautiful Meaning
Nicholas Hunt/Getty Images
OK, so in today's day and age it seems like few celebrities use their real names on stage. (I mean, did anyone really think Lady Gaga is someone's actual name?) As fans, it's always interesting to learn stars' birth names, and it's even more fun to learn about the special meanings that many of their names carry. SZA, a newcomer to the R&B scene and nominee for Best New Artist at this year's MTV VMAs, is no exception. Looking at her name on paper, most people will have two major questions: 1) How the hell do you pronounce SZA?, and 2) What is SZA's real name? Lucky for you, we've done some digging (I looked through Twitter for like three minutes) to bring you answers to both.
Let's start with how to pronounce SZA. As it is written, it looks like it could be ZAH, or S-Z-A, or any other number of combinations, but, to my surprise, it's pronounced Sizza. The singer/songwriter has said the choice to make her stage name SZA was influenced by Wu Tang Clan's RZA; the letters come from the supreme alphabet and stand for "Sovereign or savior" and "Zig-zag, Allah." Pretty deep if you ask me.
On to the next question, though. Naturally, fans are wondering, what is SZA's birth name? Well, the 26-year-old's real name is Solána Imani Rowe, which actually has a gorgeous meaning that the singer revealed on Twitter. Late last year SZA tweeted "First name sunshine middle name faith," which many fans took to be a potential hint about an upcoming track or even an album.
It wasn't. The artist clarified the tweet is just literally the meaning of her name.
TBH, it's gorgeous, yeah, but it just makes me mad at my mom for not naming me something deep and meaningful ugh.
This is a big year for SZA since she released her debut album Ctrl in April and is attending the MTV VMAs for the first time. She's nominated alongside other first timers Noah Cyrus, Julia Michaels, Khalid, Young M.A., and Kodak Black. Let's just say I won't be surprised if SZA is a WNA at this year's ceremony. (I'm sorry, I'm canceled, I know.)