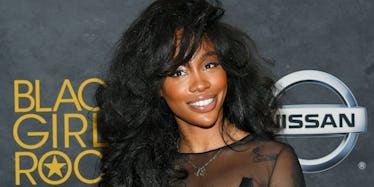 Here's How To Pronounce "SZA," If You Were Wondering
Dia Dipasupil/Getty Images
As we gear up for the twenty-third MTV Video Music Awards, we're bound to see a mix of familiar faces, like our host — the inventor of pop music — Katy Perry, and newcomers, like singer/songwriter SZA. Yeah, read that correctly, her name is SZA. Now, if you're anything like me, you probably just assumed that was a typo, but don't rub your eyes or send me a rude email, because it wasn't. The girl's name is SZA. Again, if you're anything like me, you're probably wondering how to pronounce SZA right about now. Well, I am here, ever the beacon of knowledge, to come to your rescue and inform you that SZA is pronounced "Sizza."
That's right, it's Sizza. Not ZA or Zay or S-Z-A, but Sizza. Though the 26-year-old R&B singer has been writing and releasing music under the name SZA since before she signed with Top Dawg Entertainment (the same company that represents Kendrick Lamar) in 2013, this is the first time we'll be seeing her at MTV's biggest awards show. SZA is even up for one of the biggest honors of the night as she is nominated in the category for Best New Artist alongside other "newcomers" Noah Cyrus, Young M.A., Kodak Black, Khalid, and Julia Michaels. Of course, since she's steadily making her way into the spotlight, people are learning how to say her name and her day-one fans have been having fun with teaching them.
The singer's real name is Solána Imani Rowe, but she has never used that name as an artist. She was inspired by Wu Tang Clan member RZA to work under the stage name SZA, and now here we are trying to pronounce it.
Her debut album Ctrl was just released in April and definitely helped to earn her a spot among this year's VMA nominees. Let's just hope if she ends up winning the presenter can pronounce her name properly.