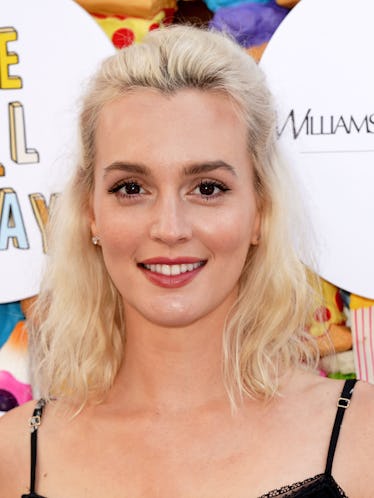 Hey Upper East Siders, Leighton Meester Dyed Her Hair & It Looks Like Blair Waldorf Is Back
JC Olivera/Getty Images Entertainment/Getty Images
Hey Upper East Siders, after a three-month stint as a blonde, Leighton Meester's new hair confirms the belief that sometimes, there's nothing like returning to your roots — well, at least your Gossip Girl ones. On Monday, June 25, celebrity hair colorist Justin Anderson took to Instagram to reveal that the 32-year-old actress has ditched the platinum blonde and is back to being a brunette. She's now rocking a chocolatey brown lob, and personally, I'm loving the return to her Blair Waldorf persona.
Back in April, Meester decided she wanted to find out whether or not blondes really do have more fun, and she bleached her way from her signature brunette hue to platinum blonde. Suffice it to say, the internet couldn't get enough of it. Although the actress may have ended her (fictional) reign as the UES queen bee six years ago, there's still something so classic and chic about her new darker locks that makes me (and fans on Instagram) feel so nostalgic for the Constance Billiard drama. "Giving me Blair Waldorf vibes here," commented one IG user on Anderson's post. "She's baaaaack!" commented another.
In general, people loved the blonde, but they're loving the darker 'do even more. Most of the non-GG-related comments on Anderson's photos are some variation of this user's comment: "LOOOVE!!!! She's adorable blonde but this color suits her the best. Obsessed."
When Meester initially went blonde, colorist Aura Friedman was responsible for the color job. At the time, Nexxus had released a limited-edition Keraphix Platinum Collection Box that helped keep Meester's hair healthy during the transformation. The protein-packed haircare set includes a shampoo, conditioner, treatment gel, and masque sachet all infused with Nexxus' exclusive Keratin protein and black rice blend that is designed to heal the severe damage often caused by bleaching hair.
But this time, as she returned to the darker side, Anderson (whose client roster also includes the likes of Ashley Tisdale, Lauren Bushnell, and Margot Robbie) started by creating dimension with various warm shades of Redken Color EQ, built a base with L'Oreal Dia Richesse, and finished off with a gloss of more Redken Color EQ shades. To protect and repair Meester's hair, Anderson used Olaplex products throughout the color process. The entire color transformation has also been posted to YouTube, just in case the actress' dye job has inspired you to go darker as well. (Make sure you leave that to the professionals, though, fam.)
Like so many best friend duos on TV shows, you'll usually see a blonde and a brunette. That proved to be true with Gossip Girl's two leading stars as well, with Leighton Meester (aka Blair Waldorf) as the brunette and Blake Lively (aka Serena van der Woodsen) as the blonde. However, out of all of the surprises surrounding the prep school students' lives throughout the show's six seasons, one thing that Blair Waldorf fans may not know is that Meester is, in fact, actually a blonde IRL. According to The Hollywood Reporter, Gossip Girl creator Josh Schwartz asked Meester to color her hair to be considered for the role.
"Leighton was a blonde when she came in to read, but Blake was the blonde, so we asked her to color her hair," Schwartz told THR. "A risky move on her part in the middle of pilot season, but she did a sink-rinse dye job to audition as a brunette."
So there you have it. All of this hype over Meester's platinum blonde transformation, and she was simply going back to her pre-Gossip Girl hair roots. But I think we can all agree, brunette or not, Meester's hair is always on fire.