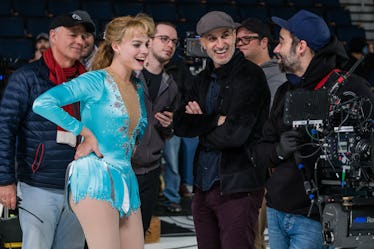 Margot Robbie's Skating Choreographer Gets Real About Training For 'I, Tonya'
NEON
Do your friends tell you you're "celeb obsessed"? Do you follow your favorite celebs' every move? Know their Instagram histories so well that you can rattle off their inner circle by name and IG handle? If yes, Elite Daily's series, SideClique, is just for you. We're bringing you everything you've ever wanted to know about the people living their lives right alongside our favorite celebs.
Margot Robbie has proven time and again she is a master of transformations. One of her most memorable roles to date required her to go to some pretty great lengths to embody her character. In the movie I, Tonya, Robbie looked, spoke, and acted like the real-life figure skating legend Tonya Harding. But was it really Margot Robbie skating in I, Tonya, as well? As a former figure skater myself, I get how hard it is just to glide across the ice with confidence, let alone do it on camera, especially if you're an actor without any prior figure skating experience.
It also can't be easy for an actor to play someone who exists IRL — especially if that person is one of the best and most notorious figure skaters of all time. So, Robbie had a lot of ground to cover in reenacting Harding's story. Here's what happened: Kerrigan was attacked by a man with a police baton just one month before the 1994 Winter Olympics. Did Harding hire the attacker? No. But a guy named Shawn Eckardt did, and he was in cahoots with Harding's ex-husband Jeff Gilhooly. Whether Harding herself was involved in the attack remains a mystery, but the commonly held belief is she knew something was going on, and after the Olympics were over (Harding placed eighth while Kerrigan earned second), Harding pleaded guilty to hindering the prosecution. She was fined $100,000, sentenced to probation and 500 hours of community service, and she was banned from ever participating in a U.S. Figure Skating event again. Essentially, the decision barred Harding from skating for life.
At the time, the whole debacle was like the darkest of soap operas playing out in the media in real time. But what's often overlooked when talking about the scandal is what an accomplished and powerful skater Harding actually was. Enter, I, Tonya, which not only gives more insight into Harding's life before and during the scandal, but it also serves as a reminder for fans of Harding's talent by recreating some of her most famous routines with Robbie — including the time she made history by becoming the first American woman to land a triple axel in competition.
To bring light to how those scenes were so beautifully recreated, Emmy-winning choreographer, skating coach, and the mastermind behind I, Tonya's skating scenes Sarah Kawahara explains her process for teaching Robbie to skate like Harding.
The partnership came together pretty early on in the movie-making process, when Kawahara interviewed with I, Tonya producer Brian Unkeless. "He had seen my work with Blades of Glory and wanted to meet me," she explains. "So we met, and I got to meet Margot over Skype, and then we got the green light to work together!"
At the time, Robbie had nearly zero experience on the ice, aside from playing hockey as a teen, but Kawahara wasn't nervous about teaching her how to recreate Harding's signature moves.
"I was curious more than I was nervous," she says. "I was curious to see how she would take to skating. Because Tonya was not a balletic skater; it was more about being athletic and aggressive and having power. When you're a beginner skater, that's a big undertaking. So I was curious to see how invested she was. But she was truly, totally, 100% invested in bringing this character to the ice and to life."
Robbie and Kawahara worked together three or four times a week for five months, with Robbie supplementing that training experience with another trainer in between.
"I felt very lucky that she had that kind of talent where she could really absorb all of our lessons, and then she could visualize them when she wasn't on the ice," Kawahara explains. "I made videos for her, and she studied. She went home for Christmas and I set her up with another coach to keep those sentences of choreography alive in her body. She was very, very invested in learning to skate. Truly, I've worked with a lot of skaters over the years and I've worked with quite a few actors, and I would say she was one of my best students ever. I always said to her, 'You know, if you'd started earlier, you could have actually been a skater.' It was a surprise to me how well she took to it, and how hard she worked at it. Most importantly, how hard she worked at it."
A little bit of computer magic and two professional skating doubles, Anna Malkova and Heidi Munger, were used for big moves like the triple jumps and fast spins, but according to Kawahara, Margot did a lot of the skating herself. "It was amazing," Kawahara says. "I taught her five different routines. The dance work and the choreography is all really her; she really did it on the ice."
It's not uncommon for skaters to experience some pretty nasty falls while trying to learn new moves, and Robbie was not exempt from this rite of passage. Kawahara recalls one time when the actress landed on her butt while trying to master a high kick. "It happens to everybody," she says. "When you learn to skate, you fall. It comes with the territory. But you have to get up. You have to bounce back and get up and try again. [Robbie] got into that skater mentality. There wasn't really anything that she said, 'No, I can't do that,' or 'I don't want to do that.' That never came into her vocabulary at all, and it was really delightful, because a lot of it is about attitude and how you embrace your situation, and she really did embrace it."
As they say, the lows only make the highs that much better, and athletes can attest to that very well. One of the most iconic moments in both the movie and in real life was when harding landed that legendary triple axel during the 1991 U.S. Figure Skating championships. When I ask Kawahara what it was like to teach Robbie how to pull off that moment, she gets almost as excited as if it were happening all over again.
"It was perfect!" Kawahara says. "We practiced that really from almost Day 1 or Day 2. Because when you land a jump, you're landing backward, and then you turn forward. And you have that ebullient moment as you turn forward. It was at first daunting, the idea of turning 180 degrees from back to front, and skating forward and then expressing your emotions. So I figured out a way that she could turn forward on a 90-degree angle, and if I turned her forward on a 90-degree angle, I could get the power and expression from her. That was a nice little trick that I found working with her. So we really practiced the landing of the triple axel, and then the moment of exhilaration after — which became the poster!"
Though I, Tonya went on to be super-popular among fans and was nominated for tons of awards — including at the Oscars and the Golden Globes — one of the most gratifying moments of Kawahara's work had to be the validation that came from Harding herself. Kawahara didn't know Harding well before working on I, Tonya, but she certainly knew of her, and they had met in the 1990s around the time of the infamous Kerrigan incident. Once the movie came out, Kawahara got the skating star's seal of approval.
"She was very sweet — she told me she thought I did a good job," Kawahara recalls. "And she was happy to see her skating represented so well. I had great doubles — her jumps were represented spot-on. I'm very proud of that."
This article was originally published on