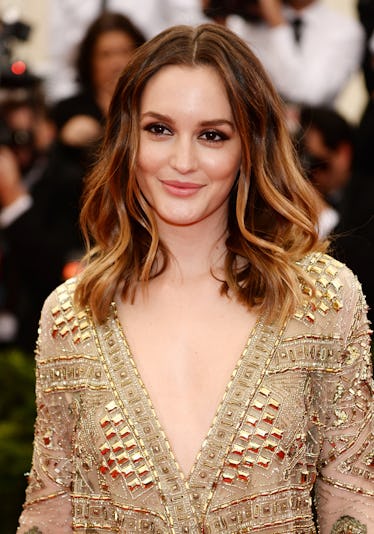 Leighton Meester Just Made A Shocking Hair Change & IDK If Blair Waldorf Would Approve
Dimitrios Kambouris/Getty Images Entertainment/Getty Images
I always felt Blair Waldorf was destined to be a blonde. In the beginning of the series Gossip Girl, she was seen as an ice queen, so a head of icy white hair would be fitting. But now, six years after the show ended, photos of Leighton Meester's blonde hair prove that Blair could've totally owned the look — though, it would've created even more rivalry between her and frenemy Serena van der Woodsen.
I totally get why the show would've chosen to keep Leighton Meester's character brunette — you always need one blonde and one brunette — but with the show behind her, the 31 year-old actress completely switched things up. She is full-on platinum blonde and completely unrecognizable.
Colorist Aura Friedman took to Instagram to show off Meester's brand new look with a photo of her wearing plaid pants, burgundy boots, a chunky black sweater, sunglasses, and a bright blonde bob. I actually scrolled past the pic, thinking it was just another pretty blonde girl. I doubled back after her next post showed a closer look and I realized it was none other than Leighton Meester.
"I had the best time taking @itsmeleighton from brunette to a vintage Hollywood #platinum using the new #keraphix protein treatment to replenish her hair with the proteins it needs, thank you #NexxusPartner @nexxusnysalon #mynexxusphix #leightonmeester #blondingbabes #onedaytransformation #colortransformation #auracolorist," Friedman captioned the pic.
How's that for a transformation? Even her style is completely different, right? Meester's usually prim style is looking much edgier post-hair appointment. I literally could've walked past her on the street and never realized it was Leighton Meester behind those shades. And all it took was some serious bleaching and six hours (yup, that's a full work day for some!).
Is it just me, or is she serving up major Gwen Stefani vibes right now? I know it's the pale blonde hair paired with a poppy red lip, but in the picture below, Meester could easily pass for Stefani's little sister.
Somewhere between going from brunette to platinum, Meester said, "I love trying different looks and playing around with my hair. But, that means it goes through so much damage, especially when I'm at work. So it is important that I keeping my hair looking and feeling healthy." So how does she keep her hair healthy after such a painfully-long process? It's all in the products she uses post-peroxide plunge.
Meester swears by Nexxus Keraphix Masque ($5; nexxus.com) and Nexxus Keraphix Reconstructing Protein Treatment ($16; nexxus.com) to keep her new blonde hair healthy from root to ends. The brand explained what these magic workers do in a press release.
"Keraphix was designed to heal visible signs of severe hair damage – and what takes a toll on your hair more than bleach?! The products have the proteins in them that you lose when you severely damage your hair so you can restore your hair from within. And to top it off, a single-use dose of the $15 Keraphix protein treatment contains an amount of protein equivalent to that lost from extremely damaged hair over a period of one year (it's our highest levels of proteins to-date, and took 3 years to create)."
In case your hair is going through some post-color damage, to celebrate Leighton's new platinum look, Nexxus is releasing a limited-edition Keraphix Platinum Collection Box that retails for $40 (which is 25 percent off of the original price). Basically, now there's no excuse for your hair to sound crunchy if you just went from brunette to blonde — I bet Leighton Meester's doesn't crunch.
If you've ever considered going from a Blair Waldorf to a Serena van der Woodsen, but always let the fear of damage hold you back, now you know the secret to healthy hair comes after your transformation. With the right products, you don't have to worry about that anymore. Build your arsenal, then get out there and live the life based on the hair color you were always meant to wear.
XOXO — Stephanie