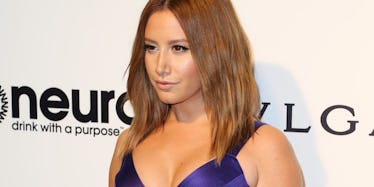 Ashley Tisdale Slams Body Shamers Who Asked If She Was Pregnant
REX/Shutterstock
Mankind has invented artificial intelligence that can strategize its way through a game of soccer, and yet the tradition of guessing whether a woman is pregnant based on her appearance is still a thing.
Humanity is evolving at an embarrassingly inconsistent rate.
Ashley Tisdale recently faced the baby-or-bagel burden familiar to all women (like, no, I don't need a seat on the train... this is a lunch bump) when Twitter speculated whether the actress was pregnant based on photos from the Elton John AIDS Foundation's Oscar viewing party and fundraiser, People reports.
In response, the 31-year-old tweeted about true happiness and "the pressure to be perfect."
FYI: This is a photo from the evening in question.
It's pretty unclear where Ashley is hiding an entire second human being in that dress, but to each Twitter detective their own, I guess.
Despite alleging she hasn't been strict on her diet, Ashley sticks to regular workouts that keep her fit and healthy. In 2015, she told Health.com,
Dedicate at least an hour every day to something fitness-related. Any physical activity helps your health and is also a good stress reliever. Monday, Wednesday and Friday I work with my trainer, Jason Walsh. I do kickboxing on Thursday. And I'll squeeze in a sculpt yoga class on, like, Tuesday.
That's... that's so many exercises. Ashley doesn't just blindly love fitness, though. She completely understands, for example, the lengths to which cardio sucks.
She said,
Yoga is my favorite thing to do because it's so much more than a workout. It's a spiritual and mentally-good-for-you experience. Cardio is not my favorite. I usually do the StairMaster, but to be on one machine for a long time? It's hard for me to just stay there.
Cardio is boring as hell, but it keeps your heart from up and failing in the middle of your boyfriend's laser tag party.
Choose wisely.
Citations: Ashley Tisdale Responds to Body Shamers: 'I'm Not Pregnant, I'm Just Happy' (PEOPLE)