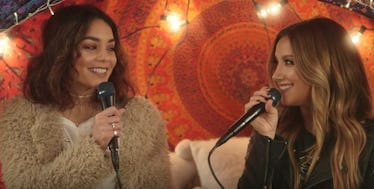 Vanessa Hudgens And Ashley Tisdale Sang A Duet And It's 2006 All Over Again
YouTube
"Wildcats, everywhere, wave your hands up in the air!
That's the way we do it... Let's get to it... Time to show the world."
SOMEBODY STOP ME, I CAN GO ON ALL NIGHT.
On January 3, Vanessa Hudgens and Ashley Tisdale sang a duet and gave fans the ultimate "High School Musical" reunion.
Yup, forget the New Year -- it's 2006 all over again.
Gabriella Montez and Sharpay Evans (it makes me tear up just saying those names) performed "Ex's & Oh's" on Ashley's YouTube channel.
The actress opened the video by telling fans she brought a special guest on her show, someone fans have been requesting for a while now.
The camera then zoomed out to reveal Ashley and Vanessa sitting next to each other, looking just as fabulous as they did 11 years ago.
Ashley even introduced Vanessa as "her best friend," so yeah, things got pretty emotional.
As Ashley pointed out, the two never actually had a song together in "High School Musical," meaning THIS IS THEIR FIRST DUET EVER TOGETHER.
If you recall, Sharpay and Gabriella hated each other, so I guess that makes sense. BUT LIKE, WTF, DIRECTORS? WHY COULDN'T YOU HAVE MADE IT HAPPEN?!
WHY HAS IT TAKEN 11 DAMN YEARS -- 11 PAINFUL AND LONG YEARS -- FOR US TO HEAR THEIR VOICES COME TOGETHER TO CREATE MAGIC?
Whatever, I'll stop complaining and just enjoy.
Also, Ashley's husband made an appearance because he did the arrangement so like, prepare to feel old AF.
As expected, the video immediately went viral and was shared everywhere on social media.
The original song, which is sung by Elle King, is pretty good in itself, but IDK -- Vanessa Hudgens and Ashley Tisdale's version might just take the cake.
Be sure to watch the epic video above and feel like a 14-year-old tween all over again.
"Once a Wildcat, always a Wildcat."
Citations: Vanessa Hudgens And Ashley Tisdale Duet (Us Magazine)