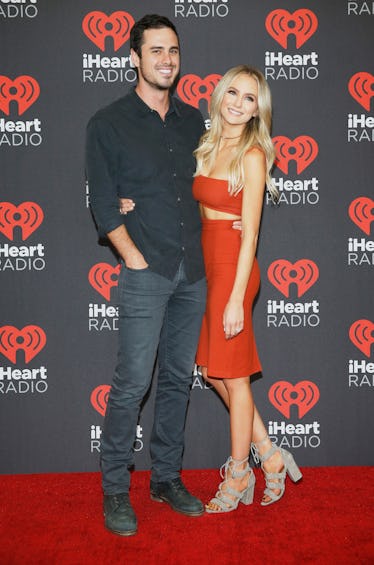 Ben Higgins' Quotes About His Love For Lauren Bushnell Will Make You Cry So Hard
Isaac Brekken/Getty Images Entertainment/Getty Images
I've been a little annoyed with Ben Higgins since he sent JoJo packing during The Bachelor finale back in March 2016. I get it — he was basically in love with Lauren B. from day one, so of course she's the one he ended up putting a ring on. The couple split in May 2017, however, and Higgins is clearly not over it. On last night's episode of Bachelor Winter Games, he broke down in tears after admitting he's not ready to date again — and it kind of broke my heart, you guys! It was all so emotional, and Ben Higgins' quotes About Lauren Bushnell prove he's a total romantic who got engaged for the right reasons. Now I just want him to find his happy ending... again. In the meantime, I'll just be over here sobbing.
Sadly, Ben wasn't really connecting with anyone on Winter Games — sorry, Yuki, but you'll always have snow angels! — and so he sat down with podcast mate Ashley Iaconetti to pour his heart out about love. "It's like, when you get engaged, I truly was so excited about the idea that I'm gonna spend the rest of my life with this person," he explained with tears in his eyes. "But I think I don't want to be hurt again. Like, I desire a relationship and I dream of kids and I dream of family and I dream of being a good dad and a good husband, but I also have to get to a place where I'm excited about dating, and I'm not."
And if that didn't break your heart right in half, Higgins then opened up about his ex-fiancée in a confessional — "I'm still emotionally dealing with the loss of that relationship" — before ultimately making the decision to leave the house. "Right here, right now, it just doesn't feel right," he told bud Chris Harrison. "My fear is that if I were to be broken again, I'm not full enough right now to recover from that. When it does happen, I am ready for that. But until then, there's just not a place for me here."
The whole thing was super sad, and it totally made me re-like Ben, and now I just want to see him as The Bachelor all over again. So, well done, ABC. While we wait and see if that ever comes to fruition, let's take a look back at some of the things Higgins had to say about Bushnell over the last 3 years. Because I like to torture myself, OK?
March 2016: She's The One
"Lauren, I never want to say goodbye to you," Higgins told Bushnell right before he proposed on The Bachelor finale. "I want to go to bed at night and know that in the morning. I'm gonna wake up with the most beautiful woman I've ever laid eyes on."
October 2016: Moving In Together
Higgins told Joss & Main that the best part about Bushnell moving into his Denver home was having the chance to learn more about her. "I'm excited to see the place with Lauren's touch on it and how happy she is," he said.
November 2016: On Hold
Just one month later, during an episode of the couple's spinoff show, Happily Ever After?, Higgins confessed to Bushnell that he wanted to put their wedding on hold. "You're the woman of my dreams," he said. "The last thing I want to do is for us to rush that."
November 2016: The One-Year Mark
Later that same month, the couple celebrated their one-year anniversary, and Higgins took to Twitter to share his happiness and excitement with his fans.
"One year ago today I started my life with @LaurenBushnell3," he tweeted. "And we are better today than ever before."
February 2017: Fake News
After rumors started swirling that the couple was headed for a breakup, Higgins once again hit up social media, this time to set the record straight.
"No need to respond often to rumors or 'fake news' but the feeling I have in this picture is the same feeling I have for this girl today," he wrote on Instagram. "I am still extremely lucky to be able to share life with her and be by her side."
March 2017: Still No Date
"We get it, people are interested in when are we getting married," Ben told ET. "We're excited for that day. Our life is pretty crazy, and we're having a blast being engaged and enjoying that time."
May 4, 2017: The Couple's Final Post
It didn't last, though. And sadly, the last time Higgins posted a picture of himself with Bushnell was when he shared this sweet black-and-white image on Instagram on Easter.
"@laurenbushnell continues to spread love while some feel it is their responsibility to spread hate," he wrote. "She is a light in this world. Proud of my gal."
May 15, 2017: The Split
About a week later, the pair announced their breakup with a joint statement to People. "It is with heavy hearts that we announce our decision to go our separate ways," they said. "We feel fortunate for the time we had together, and will remain friends with much love and respect for one another.
May 2017: The Podcast
Just a few days later, Higgins and Ashley I. launched a podcast, and the former Bachelor got super real about the split. "Lauren will always be one of my best friends," he explained, according to People. "It's hard to say goodbye to somebody that you spent so much time with, and it's hard to say goodbye to somebody you really did believe was the one for you."
Now it's almost one year later, and Higgins is clearly still struggling. He's obviously not in a place right now to find love on reality TV, but maybe he will be soon, and I, for one, will be right here waiting.
Pretty sure I know someone else who will be, too.