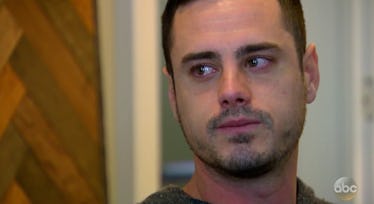 Ben Breaks Down About Lauren B. On 'Bachelor Winter Games' & It's So Heartbreaking
ABC
Ben Higgins is undoubtedly America's favorite Bachelor. He's about as perfect as any reality television star can be. Unfortunately, Ben's run on Bachelor Winter Games has been completely stagnant. He hasn't formed a connection with any of the women in the house nor does he seem like he wants to. Ben addressing his breakup with Lauren B. on Bachelor Winter Games is so, so heartbreaking.
Ben's emotional breakdown was spurred by Australian-bred contestant, Tiffany, leaving because she wasn't forming a connection. This made Ben question his own place in the house. After a long talk with Ashley I. and Chris Harrison, Ben fully opened up about his relationship with ex-fiancé Lauren Bushnell and how much their breakup has impacted him. Ben explained, "I'm still emotionally dealing with the loss of that relationship."
As far as relationships, I think Ben will be just fine. He's still testing the water and easing into dating. He said to Chris Harrison, "If I were to be broken again, I'm not full enough to go through that again." I'M NOT CRYING, YOU'RE CRYING.
Ben said, "There are a lot of ghosts that were brought up here for me. A lot of memories," to the housemates as he was exiting.
Bottom line: He's still confused about what he wants. Although it was a tearful goodbye, it wasn't all negative. Ben being Ben (the most positive person on earth) was sure to add before leaving, "I'm really happy I met you all, I'm really happy I did this."
During his individual interview, Ben summed up his experience by saying,
The Bachelor worked for me. I found love and I came here because I truly want to feel those feelings again ... I 100 percent want a relationship. I know I desire love more than I ever have before, but I know it's time for me to recover outside of this to get some... some privacy... to get some time for myself. I think there's potential for actual love here, 100 percent. It just wasn't for me.
Ben and Lauren announced their split on May 15, 2017. Although their relationship seemed very strong post-Bachelor, the couple decided to go their separate ways. The two said in a statement to People,
It is with heavy hearts that we announce our decision to go our separate ways. We feel fortunate for the time we had together, and will remain friends with much love and respect for one another. We wish nothing but the best for each other, and ask for your support and understanding at this time.
Ben touched on the fact that he is sensitive when people undermine him and Lauren's relationship. He claimed it was extremely real and he was deeply in love, but it just didn't work out.
Ben admitted back in July that the idea of kissing someone else makes his chest get "tight." While co-hosting a podcast called The Ben and Ashley I. Almost Famous, a fan emailed in, asking if Higgins would date again. He responded,
If I were to kiss somebody right now in my life, it would hold a lot of weight. It would be really hard for me. Right now, for me to kiss anybody … my chest kind of gets tight. I know that's really difficult for me.
Through all the heartbreak, Ben is forever a believer in love. When Arie started as The Bachelor, Ben took to Instagram to share some sound advice, sweet memories, and kind words on Jan. 1. Ben captioned a photo of him and Chris Harrison by saying,
A few years ago in a land far far away @chrisbharrison smacked me on the butt and said "Go get em kid". Tonight on @abcnetwork@ariejr begins something that will surely change his life forever. I wish you the best experience possible. Now go get em old man and find love along the way. #thebachelor
This is why we all adore you, Ben. Keep believing in love.
Check out the entire Gen Why series and other videos on Facebook and the Bustle app across Apple TV, Roku, and Amazon Fire TV.