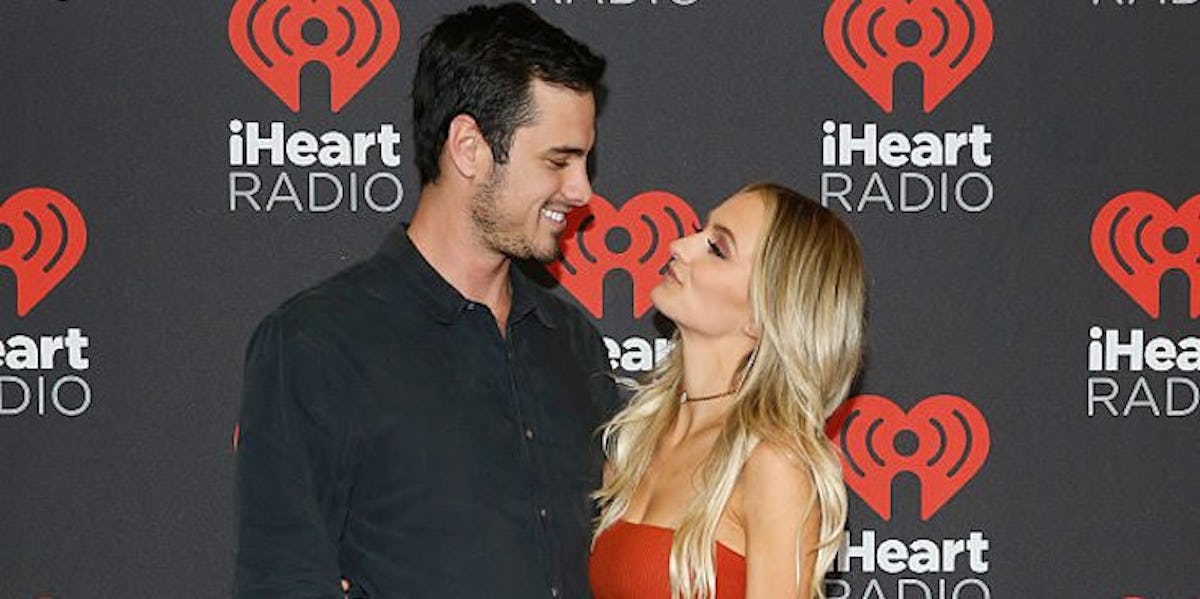 Ben Higgins Says Kissing After Split With Lauren Bushnell "Would Be Really Hard" For Him
Isaac Brekken/Getty Images for iHeartMedia
It feels like we've been talking about Bachelor's Ben Higgins splitting with his former fiancée, Lauren Bushnell, for a while now. But, for the bachelor himself, the breakup still feels brand new.
The former Bachelor star has been hosting a podcast called The Ben and Ashley I. Almost Famous, and info on Higgins' previous relationship with Bushnell and what dating again is like, and of course, their public breakup, has been slowly trickling out thanks to the show.
A fan emailed in, asking if Higgins would date again. To be honest, his answer is a little deeper than we expected.
He said,
If I were to kiss somebody right now in my life, it would hold a lot of weight. It would be really hard for me. Right now, for me to kiss anybody … my chest kind of gets tight. I know that's really difficult for me.
Well then.
He also mentioned he's intentionally tried to avoid talking about his relationship status as a way to protect fans who really believed in his love with Bushnell. He did, after all, propose to her on national television.
He added,
This kind of stuff, dating and relationships, are things that are very sensitive to me right now. It's just not something I want to talk about right now, honestly. I don't know when I'm ready [to date]. Honestly, as tempted as I am and as much as I do desire relationships, like I do. I desire commitment and I desire to emotionally attach myself to somebody … I am forcing myself to get to know myself to better, to find myself a little bit, to get to know who I am now.
For her part, sources report Bushnell has moved on, and has been dating someone named Devin Antin "for a while now," but Bushnell has yet to publicly confirm that.
She told Us Weekly in a previous interview,
I'm not looking to force anything. I think I really, really wanted to settle down. I'm just taking the mindset that I'm going to take it day by day. If something happens, great. If not, then that is how it's supposed to be. I'm just trying to focus on myself and my blog, focus on my projects and friendships and family. If something comes from that, great. I'll be so happy.
Ah, to be young, in love, and a reality TV star.