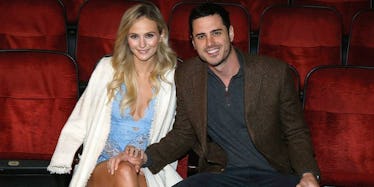 Lauren Bushnell Reveals Plans After Breakup With 'Bachelor' Ben Higgins
Getty Images
"Bachelor" Ben Higgins and Lauren Bushnell officially called it quits on their relationship this week, but that doesn't mean the split wasn't a long time coming.
In fact, the reality stars are wasting no time moving on with their lives and diving headfirst into separate projects -- both of which are inevitable products of their "Bachelor" fame.
While Ben is launching a podcast with Ashley Iaconetti, Lauren is moving out of the couple's Denver home and is headed back to Southern California to launch a career in fashion.
Of her post-breakup plans, she told PeopleStyle,
I'm moving back to SoCal. That's where my life was before the show — my friends, my siblings. I love the beach, the healthy lifestyle and the energy that Los Angeles has to offer. I'm definitely a SoCal girl at heart!
The 27-year-old former flight attendant already had her first modeling gig: a photo shoot for Van De Vort's summer collection.
The trendy San Diego boutique has long been a favorite of Bushnell, who became friends with the owner, Andrea, and used her as a stylist in recent months.
Speaking on the collaboration, Bushnell revealed,
I have shopped at Van De Vort for awhile, even before my time on The Bachelor. Their styles are on trend and easy to wear. Andrea, who is a fantastic stylist, and I became fast friends. She helps me put together pieces for brunch with friends or award shows and special appearances.
Bushnell was joined by BFF and fellow "Bachelor" contestant Amanda Stanton for the shoot, which took place at Coachella Valley's La Quinta hotel.
The owner, Andrea Van De Vort, told PeopleStyle,
In my opinion, they were both the best dressed on their season on The Bachelor when they were both vying for Ben's attention. It was natural for me to reach out to Lauren and Amanda for this shoot because they wear our clothes perfectly already. When Lauren and I became friends, and then Amanda and she became such good friends, it made sense to shoot them together since they were so on brand with Van De Vort.
There's an obvious benefit to having TV personalities -- with large social followings -- model your clothes, but I have to admit both Bushnell and Stanton look like naturals in these photos.
It certainly looks like this won't be the last time we see Bushnell. She may have left her reality star life (temporarily? You can't convince me she won't appear in some way on a "Bachelor" franchise) with the breakup, but she's definitely looking to catapult back into the spotlight with her fashion career.
She revealed,
I would love to get even better [at modeling] with some real training to continue doing fun lookbook shoots like this one. It's hard to call it work when you're getting to dress up in cute clothes, get your hair and makeup done and get to go to fun locations with a group of inspiring women who are involved in the shoot.
She also said she'd love to start her own fashion line in the future.
It looks like Bushnell even has the support of ex-fianceé Ben Higgins -- at least for now. In exclusive excerpts from his new podcast, Higgins shared,
I believe that Lauren and I both will come out of this with a whole new season that is going to be very good for the both of us.
If there's one thing Bachelor Nation is good for, it's launching careers.
Citations: Lauren Bushnell's Next Step After Ben Higgins Breakup: Moving Back to California to Pursue Fashion! (People)