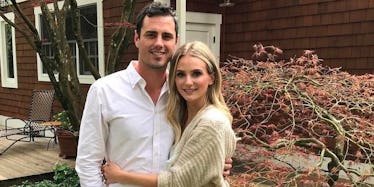 'Bachelor' Ben Higgins On Lauren Bushnell Split: 'Life Was Getting More Difficult'
Instagram
This week, Ben Higgins and Lauren Bushnell announced their breakup, sending shock waves throughout all of Bachelor Nation.
Just kidding. Is anyone ever actually the least bit surprised when a couple who met on the set of "The Bachelor," under the watchful eyes of Chris Harrison and millions of viewers at home, don't last forever?
Anyway, not to be callous, but the couple, who got engaged in the season 20 finale, join the ranks of other reality TV show stars who just couldn't make it work off-screen. In a statement on Monday, they said,
It is with heavy hearts that we announce our decision to go our separate ways. We feel fortunate for the time we had together, and will remain friends with much love and respect for one another. We wish nothing but the best for each other, and ask for your support and understanding at this time.
Essentially reading off that same script, 29-year-old Higgins is opening up about the breakup for the first time on his new podcast.
The podcast, titled Ben and Ashley: "Almost Famous," will feature fellow "Bachelor" survivor Ashley Iaconetti (better known as Ashley I).
The first episode will be released on Tuesday, May 23, but in the meantime, E! News uncovered some exclusive excerpts -- involving Higgins talking about the "very fresh" breakup, of course.
Addressing the topic on everyone's mind, Higgins said,
Just to be as politically correct as possible and to also be as truthful as possible, Lauren will always be one of my best friends. It's [a relationship] where I learned a lot about myself; I think she learned a lot about herself. Obviously, she knows me better than anybody else that has gone through this experience, and really probably anybody else in the world. It's tough.
OK, the "tough" part I get. The whole "we will always be best friends" thing, though? When are we going to drop that act?
Six months after their "Bachelor" season finale aired, the duo returned to reality TV on Ben & Lauren: Happily Ever After? for eight whole episodes.
It's kind of difficult to believe Higgins and Bushnell's "best friend" status post-breakup when even a show about their engagement had a question mark in the title. Anyway, moving on...
Higgins eventually got to what people really want, which is a little insight into exactly how this relationship fell apart. He said,
I think mutually Lauren and I saw that life was getting more difficult. I would say the joy that we felt toward our relationship at the beginning was -- for some reason -- slipping away, and we were both working very hard to bring that joy back. And it just never seemed to get there. So it was a long time coming but it wasn't necessarily like we dragged it out.
He continued,
I am a little confused, a little lost, but I'm doing all right. Life is going to be good and I know that from past experiences, any type of brokenness... Often times those situations can be turned into be a beautiful thing. I think that's what's going to happen here and that's what I'm confident in today.
Noting the decision was "for the best" and that there was "no real saving or redemption to be done" (they did attend couple's therapy at their church), Higgins also sounded optimistic about their separate futures. I mean, they are famous now, after all.
He revealed,
I believe that Lauren and I both will come out of this with a whole new season that is going to be very good for the both of us.
I guess I'm just cynical but I can't help but think that "season" might include more screen time down the line for the reality stars.
Citations: Ben Higgins Sheds Light on ''Tough'' Split From Lauren Bushnell: ''Life Was Getting More Difficult'' (E! News)