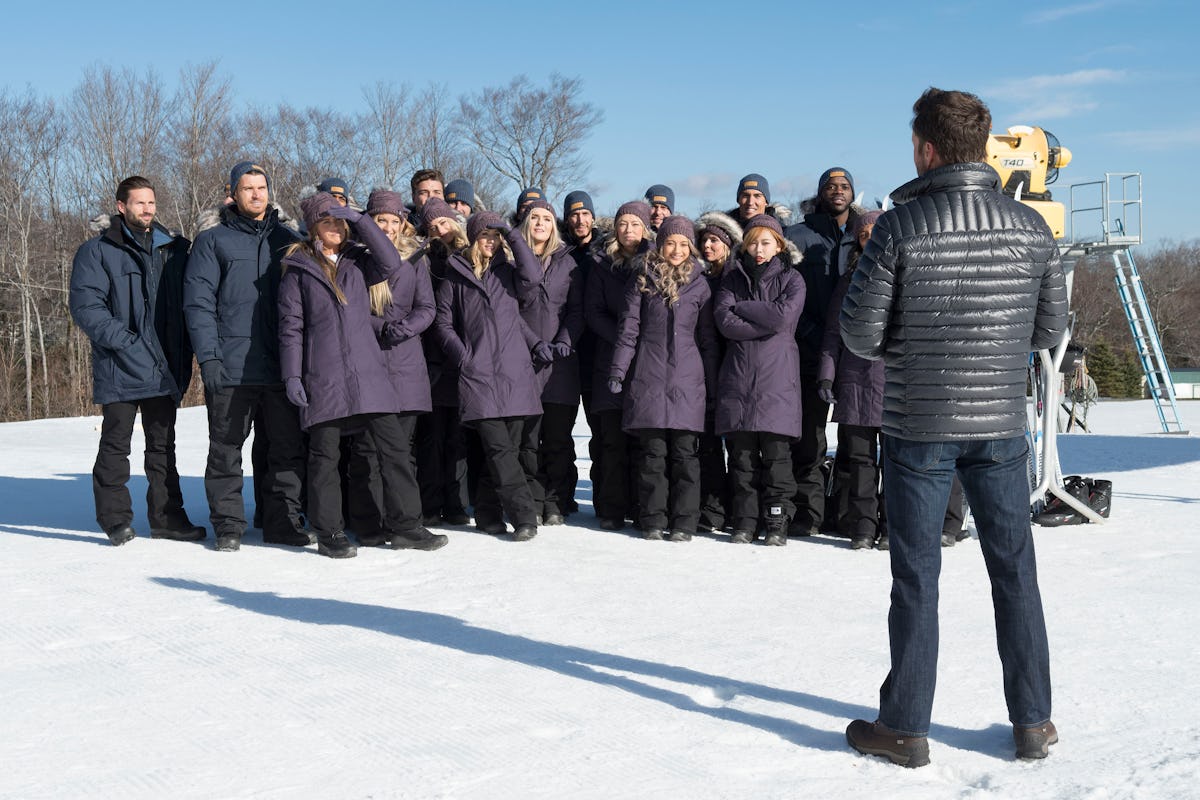 3 Contestants Went Home On 'Bachelor Winter Games' Night 2, Here's Who's Left
The athletic task at hand on Episode 2 of The Bachelor Winter Games was speed skating, and I could make plenty of puns about the rapid-paced sport paralleling the quick heartbeats of the contestants waiting for the results of their second rose ceremony. After five Bachelor alums were cut on Tuesday night, who went home on Bachelor Winter Games Night 2? Rebecca and Jenny were ultimately cut from the Winter Games competition at the end of the episode, in addition to Benoit choosing to leave earlier in the episode.
Having introduced the new twist of voting off contestants rather than giving out roses in Episode 1, Chris Harrison revealed that the group would return to its traditional rose ceremony format. Men would hand out the roses, meaning that two women would end up leaving the house in the end. Is anyone else sort of disappointed that, for the rest of Winter Games, we won't see any Survivor jokes about the tribe having spoken?
In another pre-elimination twist, Jordan Mauger, the Bachelor New Zealand lead who flipped a coin to determine his winner, finally showed up to the Vermont house after having some visa issues. Anyone hoping for the mischievous Jordan to cause some drama and disturb established couples was probably pleased when Ben Higgins (or "America's best Bachelor," as Ashley I. said) tried to confront him about the rumors of his reputation.
Jordan had a decent amount of options if he decided to intentionally rip apart a steady couple, as Clare listed all of the hot and heavy matches before he arrived. Luckily, the questionable former Bachelor turned out to be rather harmless, forming a sweet relationship with Bibiana.
As for the eliminated contestants, finding love on Winter Games was clearly not in the cards. Benoit chose to leave the competition when Clare failed to make a decision between dating him or Bachelorette Germany alum Christian, who is quite frankly the German Juan Pablo.
The adorable French Canadian was clearly torn over leaving Clare, even telling her that he loved her during their snowy goodbye on the porch of the house. BRB, I'm going to Canada to bake sympathy cookies for Benoit, but I'll have to fight off some of his other admirers first.
During the rose ceremony, Rebecca and Jenny didn't receive roses from any of the men. Swedish cast member Rebecca had a strong start to Winter Games in Episode 1, winning the women's skiing heat and taking Luke on a date, but seeing as he was cuddly with Stassi in this episode, I guess Luke didn't really feel it with her.
Although she called herself a bitch in her Winter Games promo clip, Rebecca seemed to come across to many viewers as a genuine, sweet woman.
Finnish contestant Jenny hadn't received much airtime prior to her elimination, despite finishing as the runner-up on her season of The Bachelor Finland. Apparently, her dismissal from the games didn't hurt fans too badly.
With these Winter Games contestants out of the picture, we finally have the potential to truly get to know some of the foreign contestants. I still have the goal of trying to tell apart all of the blonde international stars by the end of the season. Now that there are fewer people in the house, there's also room for truly viable love connections to form.
The all-over-the-place editing may have confused you, but we're officially halfway through this inaugural season of Winter Games. The Bachelor Winter Games returns on Tuesday, Feb. 20, at 8 p.m. ET on ABC. The show's finale and a "World Tells All" reunion special will air on Thursday, Feb. 22.