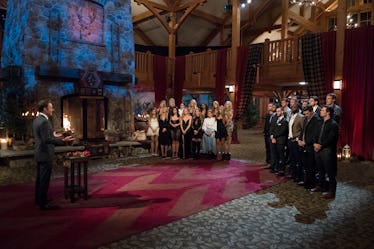 Here Are The 5 Competitors Who Went Home On The First Night Of 'Bachelor Winter Games'
The first episode of The Bachelor Winter Games was a whirlwind of snowy landscapes, international flags, and romantic hookups. The icy slopes got a little hotter when contestants became stressed out over the news that they would have to vote five contestants out of the competition. Following this upset of the typical rose ceremony formula, who went home on Bachelor Winter Games Day 1? Eric, Zoe, Jamey, Laura, and Lauren failed to win enough votes to continue on in the Winter Games competition.
A trained Bachelor eye can usually tell who is going home based on their lack of or sudden influx of airtime on the show. Following this usually foolproof system didn't apply to Winter Games, as both the editing and introductions of new contestants were a little all over the place. As a result, it feels like we hardly knew any of these eliminated people, with the exception of recent Bachelorette fave Eric.
In UK contestant Laura's case, there were so many blond foreign women that it was a little hard to tell them apart. She left the Vermont lodge feeling downtrodden, wondering if her elimination meant that all of the men hated her. Given that Laura has a thriving fashion blog to take care of when she's back in England, I think she's much better off without a Bachelor Nation romance in her life.
Although I was hoping that Lauren G. (gosh, remember when we didn't have just Lauren B. repping the name?) would reach Bibiana-levels of prominence on Winter Games, such legendary status wasn't in store for her. But it sounds like she and Laura have some invested fans out there, so I call for a friendship between these two almost-name twins.
Zoe from The Bachelor China was a pretty quiet addition to the cast, and the limited information on her previous Bachelor appearance seemed to have foreshadowed how little we still know about her. She took the elimination badly, crying in her last confessional, and Twitter viewers were disappointed in her practically non-existent edit on the show.
On the men's side, Jamey was an early boot from Rachel's Bachelorette season and was that infamous guy who tried to speak out against DeMario Jackson at the Men Tell All special. In a moment where fans actually liked him, DeMario said what we were all thinking and asked Jamey who he was.
The same confusion was evident on Winter Games. Jamey wasn't shown very much on the show, and Lesley commented that when they spoke on the competition's first night, he just didn't seem very present.
So, nice pretending that we knew you, Jamey.
The real heartbreak of this episode's elimination was Bachelorette Season 13 sweetheart Eric. The third-place contestant on Rachel's season failed to make a close connection with any of the women, mentioning before he left the show that it had been a tough year for him. Speaking to Elite Daily earlier this week, Eric hinted at his emotional Bachelorette experience affecting his mindset during Winter Games:
I'd just done The Bachelorette prior to that...and emotionally it was a long year...There were so many different people, so if you didn't find someone right away that you connected with, then it was hard to lock in on someone... You had more options, and I believe less is more when it comes to dating. More energies, more options, there's more difficulty and there's a lot more challenges but different strokes for different folks. I just think more people... didn't make it better. It was a little more challenging.
Fans of Eric were also crushed to see him leaving Winter Games so early.
We wish the best of luck to the eliminated contestants as they hopefully find love elsewhere. The Bachelor Winter Games returns on Thursday, Feb. 15 at 8 p.m. ET on ABC.